One Room Challenge: Laundry Room Week 3 Updates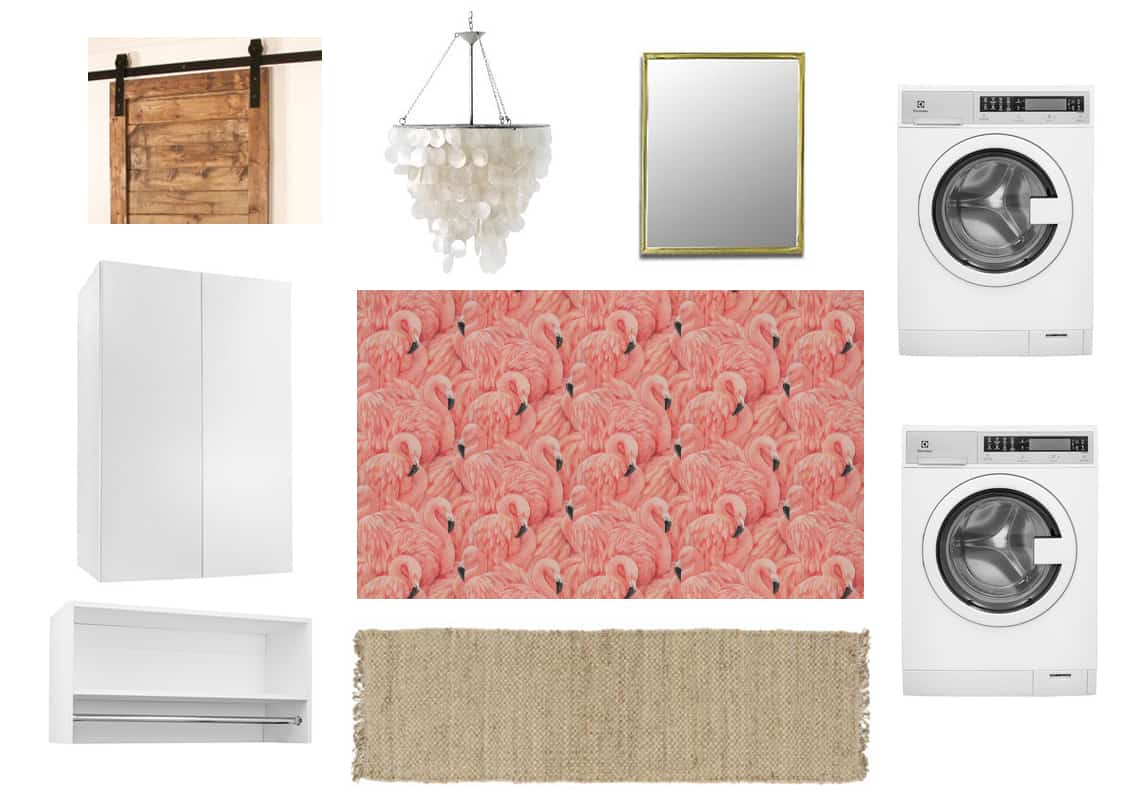 Barn Door Hardware (that I'm using) // Chandelier // Cabinet // Wallpaper // Rug
One Room Challenge: Laundry Room Updates Week 3
Welp, Week 3 of the One Room Challenge is officially when everything falls to crap…literally! I got behind on installing the barn door hardware. The electrician who was coming to install the light had to reschedule. So there is nothing in the way of a good picture for you what-so-ever! Whomp, whomp :(
The good news is that I got to spend some time shopping around for a few things. I'm exploring paint colors for the barn doors and I think I've decided to go with a very pale pink that will compliment the flamingo wallpaper.
I plan on adding some pink non-slip velvet hangers like these for clothes and I'm going to bedazzle the cabinet doors with some funky knobs. I love these knobs from Anthropologie but I'm going to check out Hobby Lobby (the best place I've found for affordable, unique knobs) first!
I also started to assemble the storage cabinet from Modular Closets and it was a breeze! This is part of the same organizing system that I used in little man's closet makeover.
The space is small so I wanted a mirror(s) to reflect some light. I picked up these 3 square mirrors for $1 each from the Habitat Store earlier this summer without knowing where I would use them. I think they will be perfect in the laundry room, particularly to cover up the ugly water shut-off valve. Grits is enjoying his view!
With all that said, the wallpaper will go in next week and the light will be up so that will be a big week! The following week will hopefully be the barn door install and cabinet and finally (cross your fingers, say a little prayer) the big REVEAL!
Since the weekly schedule has gotten messed up I thought I would share the overall punch list for the project:
laundry room demo & prep
replace washer & dryer
shop for accessories (finished by today)
install light fixture (tomorrow)
install wallpaper (early next week)
install barn door hardware (this Friday) & build barn doors (next two weeks)
put together & hang cabinet (end of next week)
accessorize (2-3 weeks out)
If you missed the first to weeks you can find them here: Week 1 // Week 2
Make sure to head over to Calling It Home to see all of other amazing room updates!
Cheers!