5 Tips For A Simple, Happy Home (& keeping your mom brain sane!)
{This post is sponsored by Aera. All designs, ideas and opinions are my own. Thank you for supporting the brands that make Simple Stylings possible!}
5 Tips For A Simple, Happy Home (& keeping your mom brain sane!)
Happy Monday friends!
I hope you had a wonderful weekend of Cinco de Mayo and Kentucky Derby celebrations (or both)!
You all know that I've been on a journey to simplify our home and our everyday life, probably because I talk about it here ALL.THE.TIME. It is truly my heart's desire to have fewer possessions and more experiences, aka less laundry and more bike riding if you know what I mean.
Over the last year or two I've been committed to paring down my wardrobe, getting rid of unnecessary things in our house and even simplifying our family tasks from budgeting to managing our schedules. I'm not going to lie, as a busy single mom I lose my mind a little if things start piling up and getting out of control.
More and more I find myself wanting white space in our home (remember I mentioned wanting to paint our fireplace?) and metaphorically in our lives too. Space and time to think, read, chat with neighbors and enjoy my son's fleeting childhood. When I'm able to incorporate products into our home that not only make our daily lives better but are also thoughtfully designed I get kind of excited!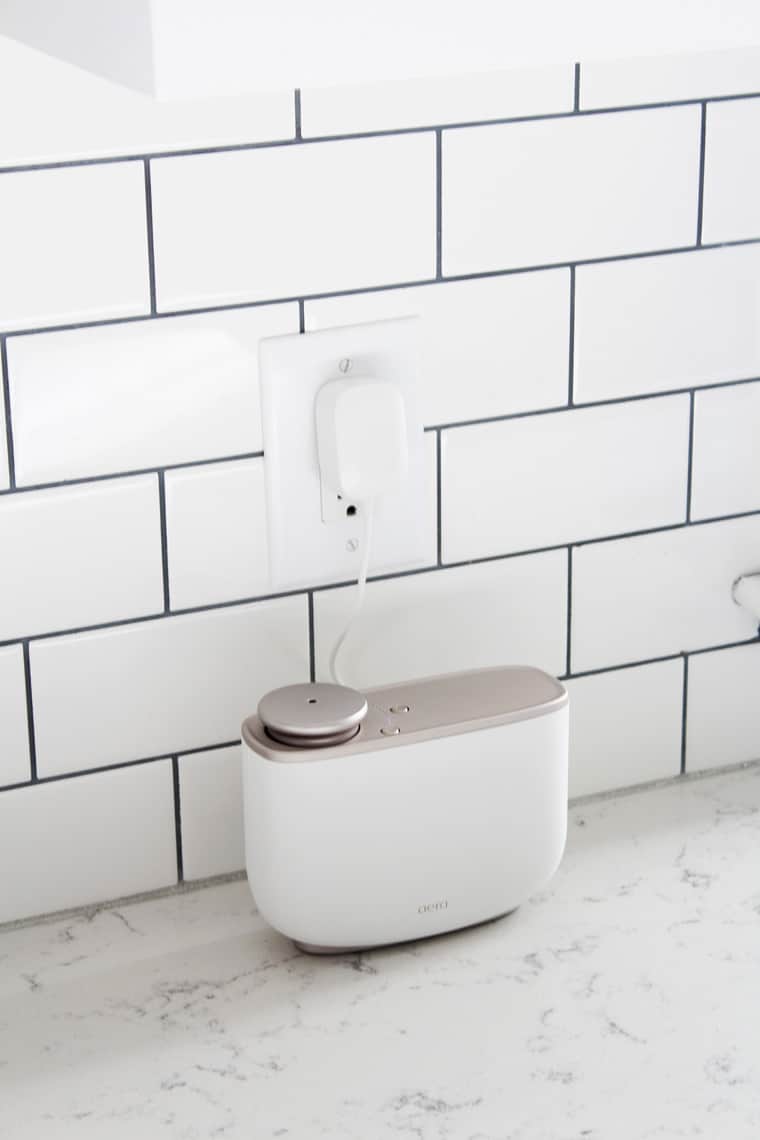 I want to introduce you to my new friend, the Aera fragrance diffuser and The Simplicity Collection of scents. This sleek little device diffuses pure, wonderfully smelling fragrance and essential oils with the touch of a button from your phone. Using the AeraforHome mobile app, I can set the diffuser to come on and go off at any time of the day and I can also control the intensity level.
The Simplicity Collection of fragrances includes White Tea, Lavender, Cherry Blossom, Sandalwood, Citrus and Vanilla. So far I'm loving them all but I think Sandalwood is my favorite! It's earthy and calming and it just makes me happy!
The fragrances do not contain any VOC's and are safe for your family and pets! Each fragrance capsule lasts about 60 days on an average setting.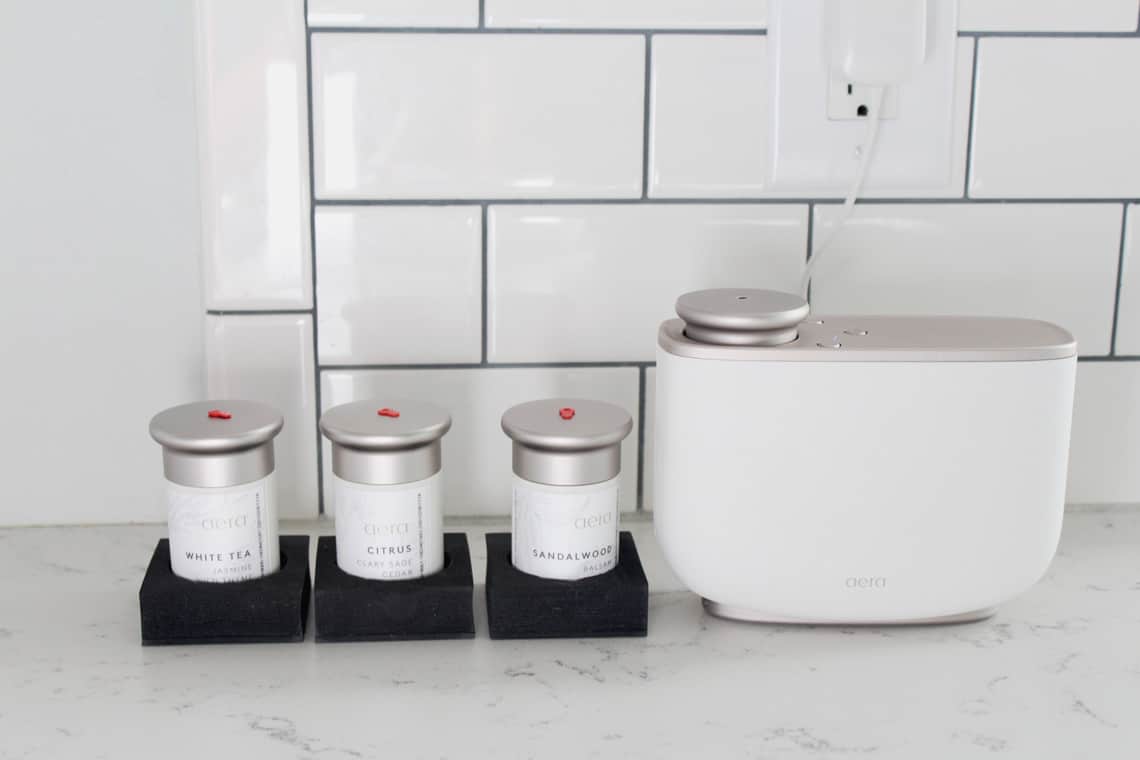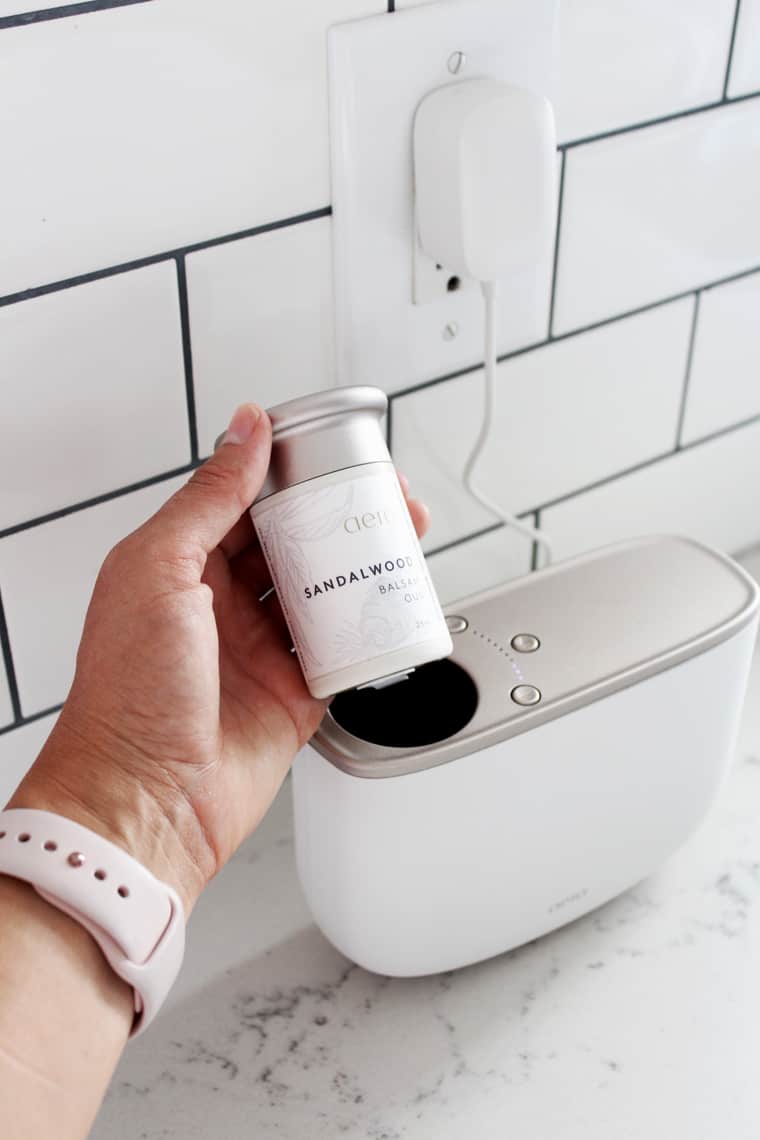 I love using my Aera in my bedroom if I want to have a relaxing evening after a long week or in our kitchen/main living area if we're having friends over. I have mine set to come on around 5pm after work and school, and to turn off at 10pm when it's time for bed.
It really fits in with the design in any room. You don't even notice that it's a device, it looks more like a decor piece! And a great Mother's Day gift idea too!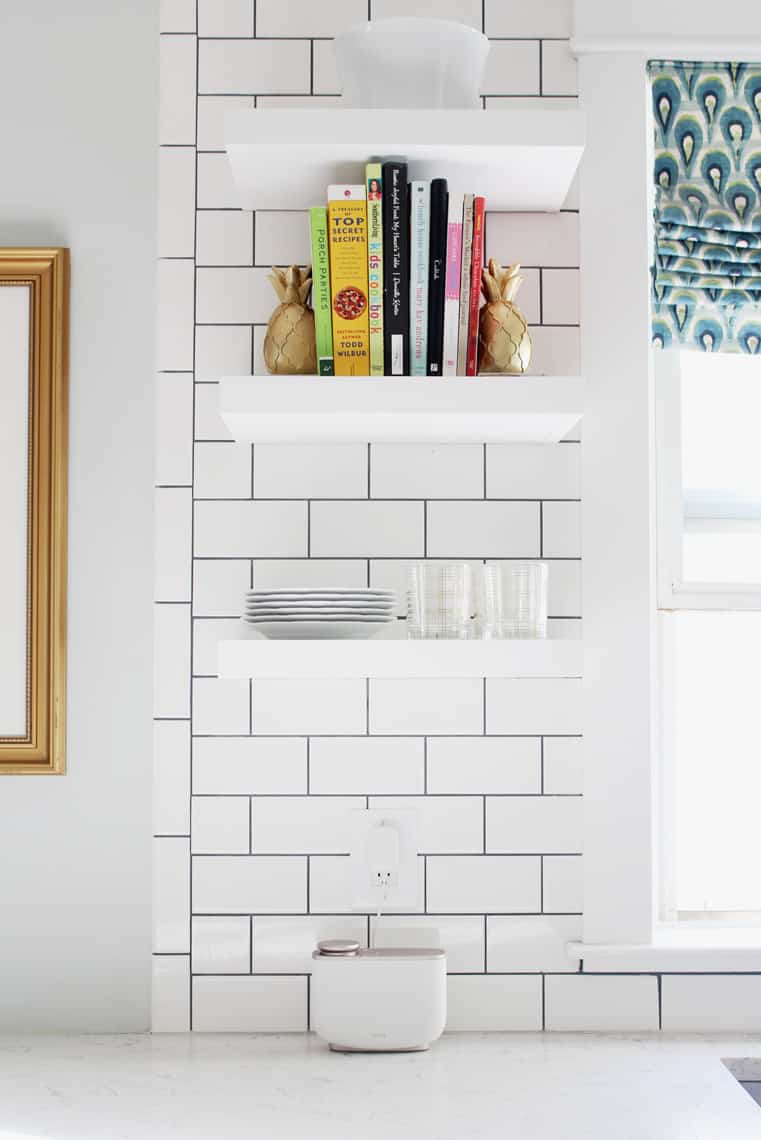 In order to keep my sanity and enjoy any kind of peace in our home I have to make sure I'm on top of all the things! Moms, am I right?!?! Here are a 5 tips for creating a simpler, happier home and hopefully keeping that mom-sanity in tact.
5 Sanity-Saving Tips
1. Clear the clutter. Try to catch mail and papers before they hit your countertop so you can keep the clutter at bay. Start a system for dispersing the papers as soon as you bring them in the door.
2. Have a visual calendar. Do this for yourself and especially if you have school-age children. I can't tell you how helpful it is to have a wall calendar where my son can see what he has each day because 9-year-olds NEVER remember anything :)
3. Take a few minutes to yourself. This is super important whether it's a bath before bed, a few minutes of reading time in the morning or a short cat nap on the couch. Do this for your mental health!
4. Clean up at the beginning and end of the day. I am definitely guilty of not doing this but I know that I feel better if I make up my bed in the morning and make sure things like dishes and dirty clothes are put away at night.
5. Create the feeling you want. This is the fun one! Diffuse your favorite scent from your Aera diffuser, add fresh flowers to your room or anything that feels inviting and calming for your family and your guests.
How do you keep your mom-sanity in tact? Do you crave a calm and simple home like me?
***
In addition to these fabulous sanity-saving tips you guys get a chance to take the #AeraSimplicityChallenge to win an Aera Diffuser as well as a HUGE ultimate giveaway prize pack! Click HERE for more ideas on how design can impact your day for the better and to join in the 30-day challenge. Don't wait to wait or have time to take the challenge? Don't worry, Aera is also offering you 15% off your order until June 30, 2018 with the code SIMPLESTYLINGS15.
Cheers!