HOM: The Bold + Beautiful Home of a Talented Design Lover
Happy Tuesday friends! It's that favorite time of the month again….drumroll please…the Home of the Month tour!
One thing I love so much about blogging (and social media) is the ability to connect with all kinds of talented people from across the globe. I've met other bloggers, makeup artists, designers and even design enthusiasts who use social media to showcase their talents in their own homes. Justine Morris is one such talent! I honestly don't even remember how I found her on Instagram but I came across her feed one day and I was hooked! I followed her immediately and quickly realized that I desperately wanted to feature her home in this series.
Luckily for us she said yes and we get to peek inside her bold and beautiful home today! I just being inspired on a daily basis and I'm especially impressed when I run across those who are not interior designers but are so passionate about design (and clearly have talent) that they teach themselves!
HOM: The Bold and Beautiful Home of a Talented Design Lover
Okay guys, meet Justine…
Justine is an Australian who is currently living in Houston, Texas with her husband, three daughters and Coco her beloved dog. Her husband was transferred to Houston 7 years ago with his company. On arriving they brought an old fixer upper and have slowly been renovating and updating the property. She started @Home_and_Abroad on Instagram to document the changes they made and how she constantly changes the interior decor to match her mood. She is a lover of interior design and spends way to many hours poring over interior design books and magazines.
Now let's see her digs…
One of the things I love most about Justine's home is ALL.THE.BOOKS. Everywhere books, so many books, and I think this is a great way to make a home feel cozy and lived in!
Typically I would advise people not to stuff their massive built-ins completely full of books but I stand corrected because what Justine has done is perfect!
I also love the bold artwork below. Can you tell that there is an outline of a man and a women in the prints?
Justine also does a great job mixing patterns, art and accessories.
Y'all know I love a great gallery wall and the one in her dining nook is so fun and quirky. Of course I love the caricature drawing because we have one in our office gallery wall too. This is such a fun and personal conversation piece.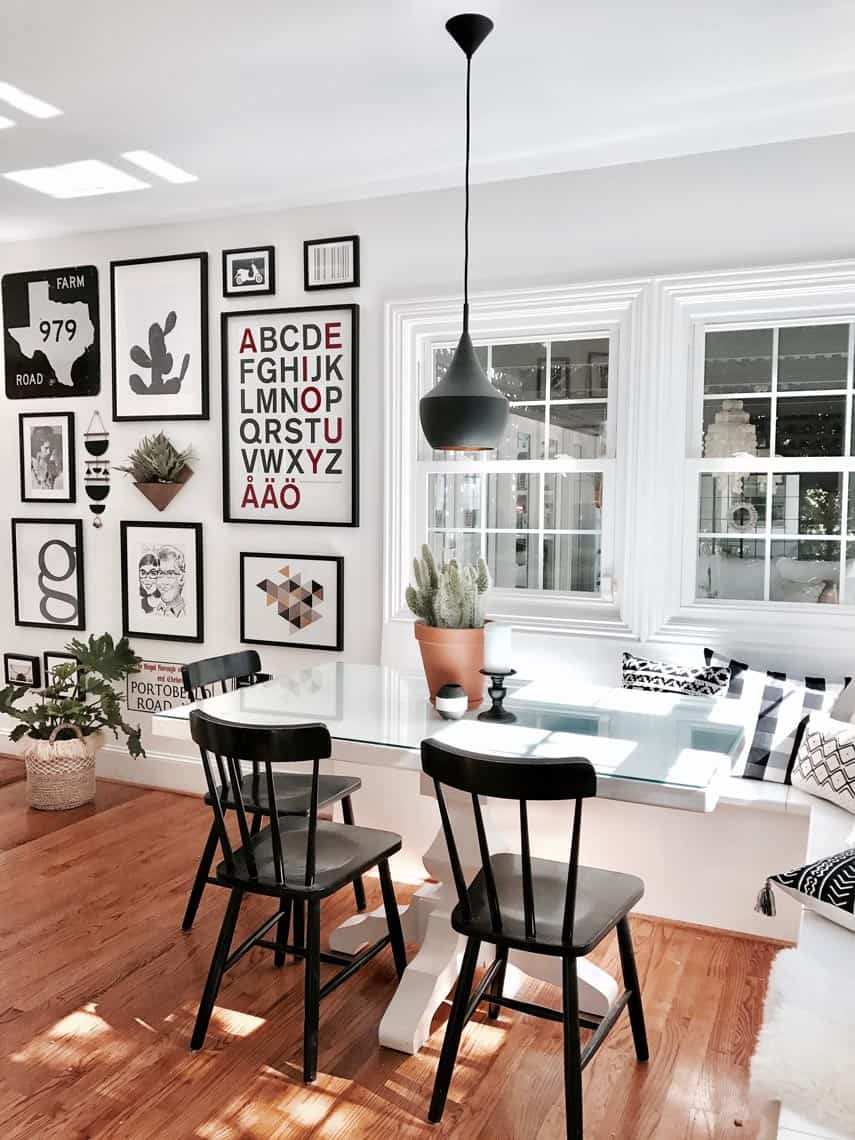 Tucking a bar cart into a little nook is always a good idea, as is a bold light fixture in an otherwise neutral room.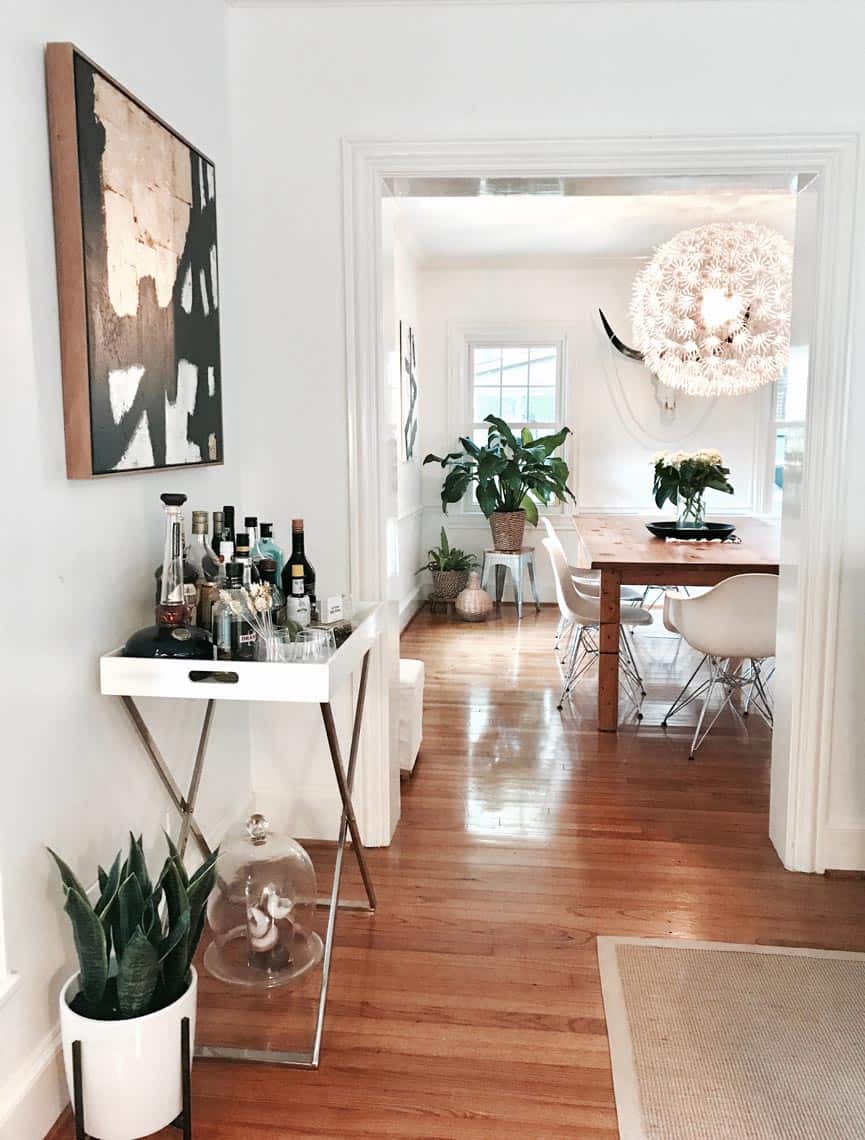 The white kitchen is beautiful and I love the ceiling height cabinets with glass doors. The jute rug is exactly what I would have chosen too.
I have to mention the "bug" artwork here. I don't know that I would ever think to hang this in my home, particularly my dining, but I have to say I LOVE it and I know who would love it even more…my little man. Way to go Justine for bucking the system and taking some great design risks! That's the fun part of decorating our own homes, right?!?!
Yet another awesome gallery wall.
I love this little spot, perfect for curling up with a good book. The slipcovered furniture is my favorite!
So much attention to detail.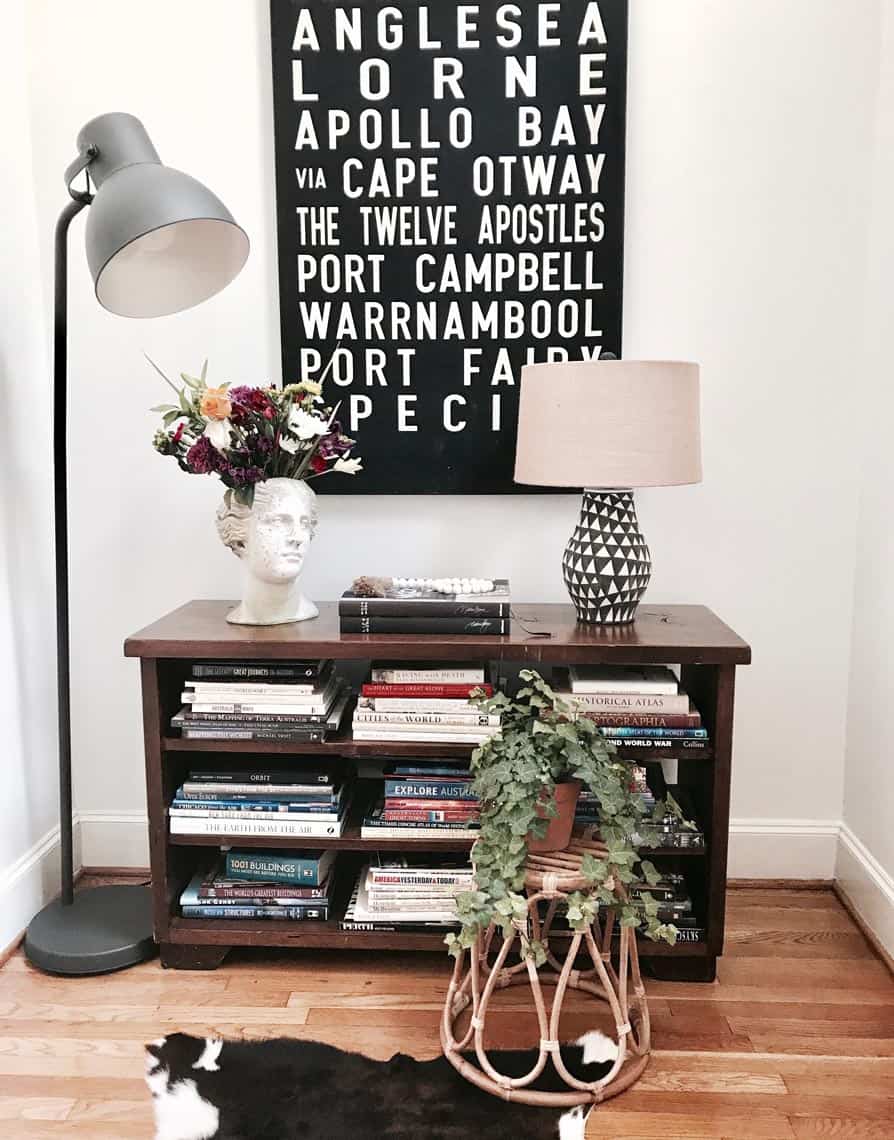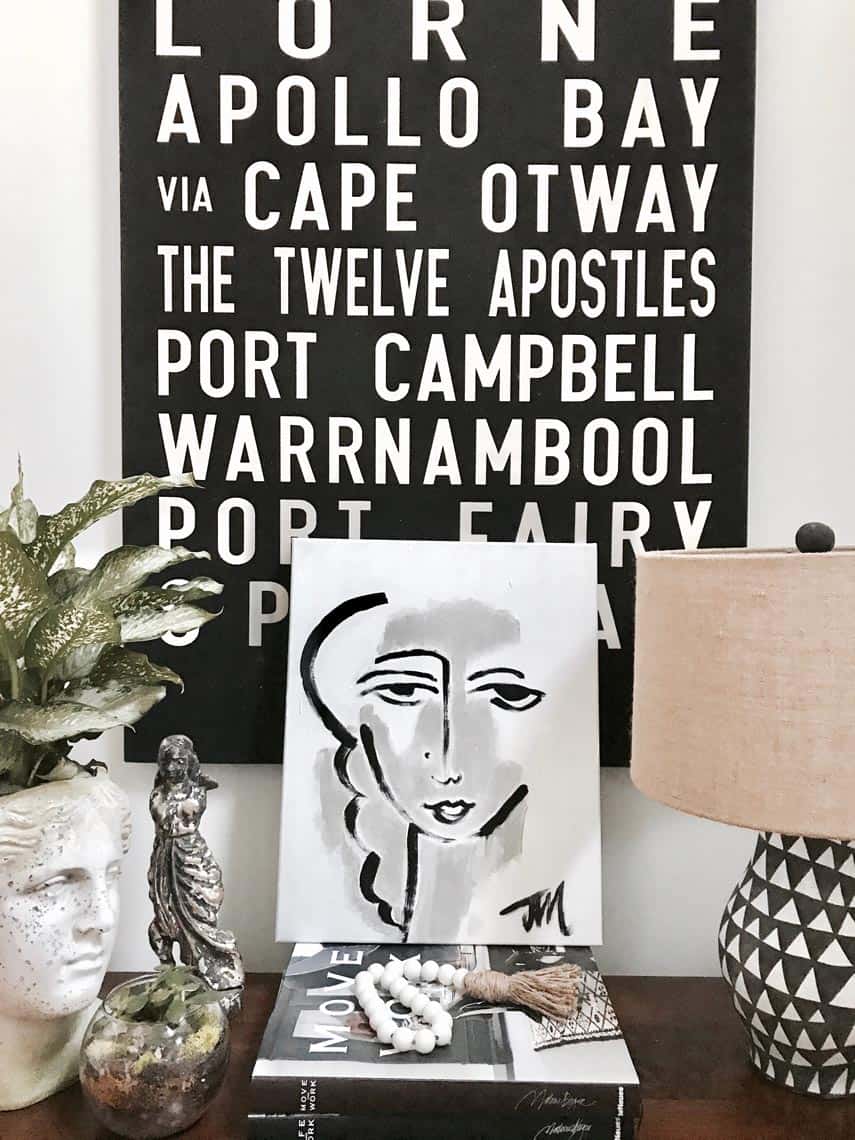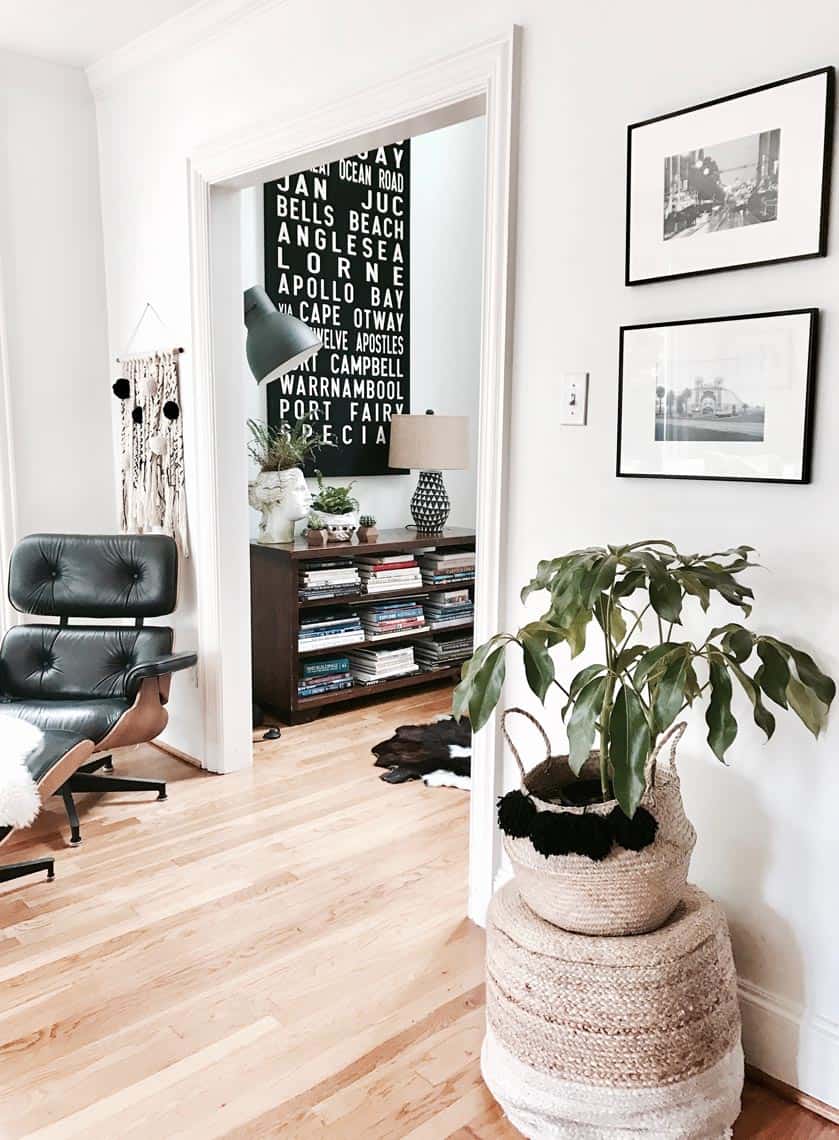 This looks like a great place for Justine and her girls to hang out together. It's clearly a girl zone :) although not too girly in decor.
I love all of the greenery in here too. I think it's a great touch in the bedrooms.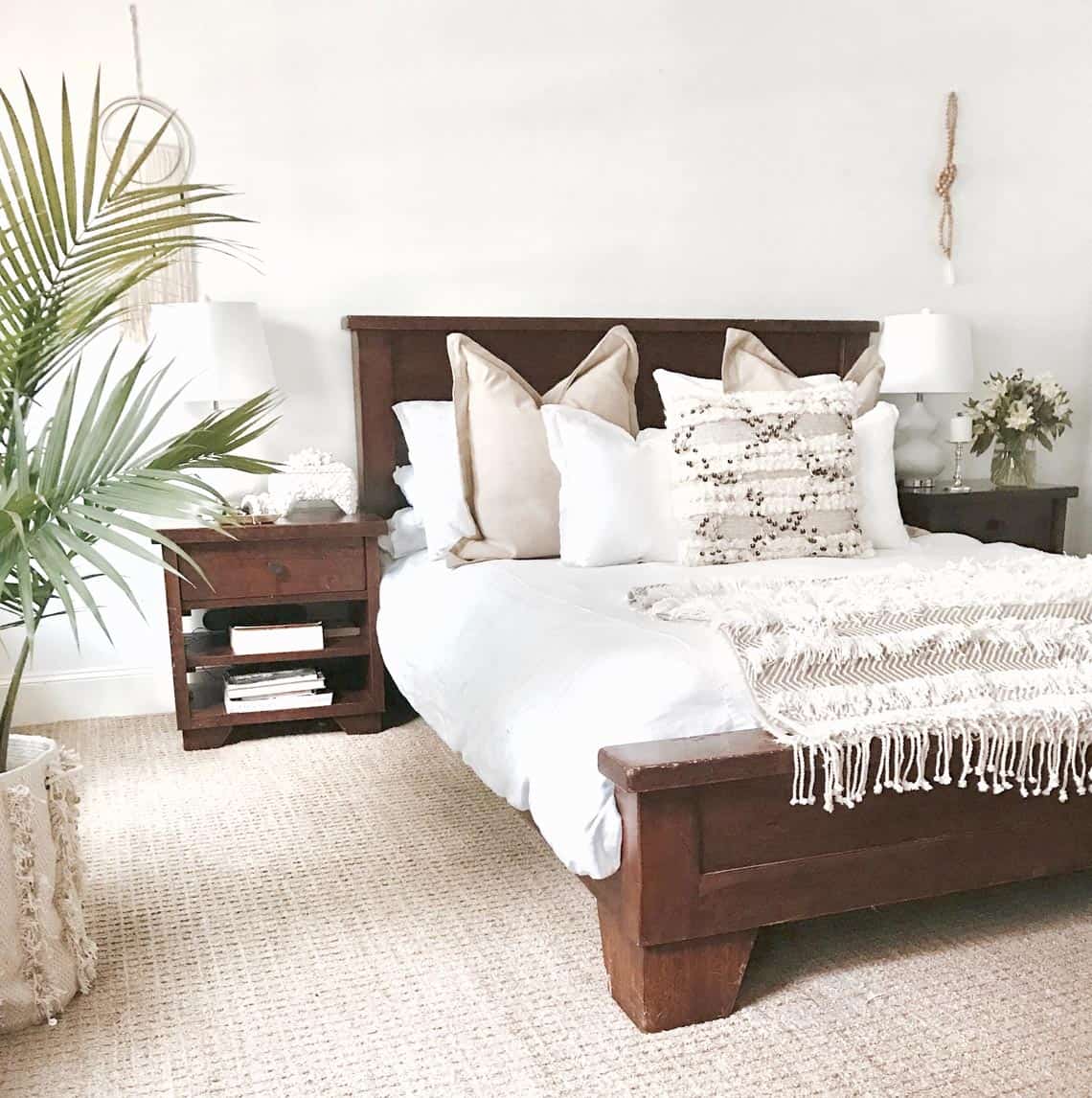 And how cute is Coco?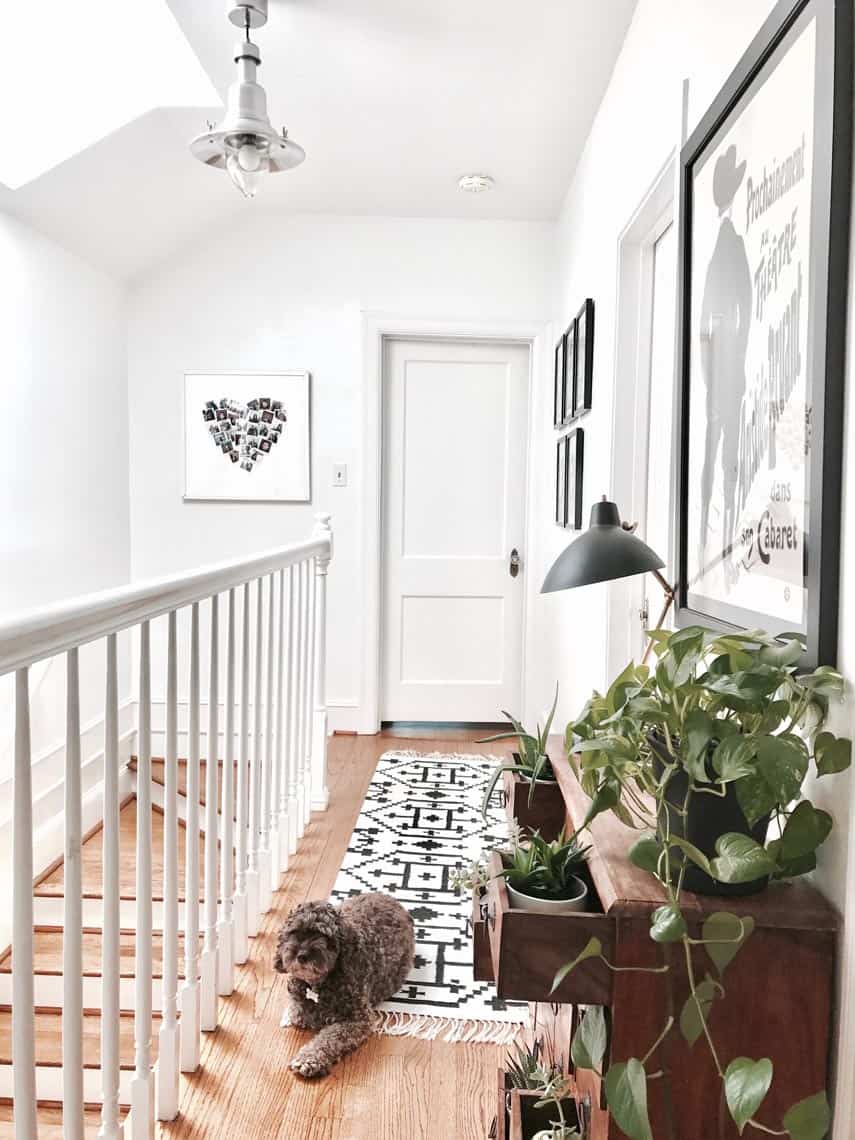 Such a sweet bedroom with a little pop of color!
Now for the outdoors! Justine's is really talking my love language with this space and the tri-fold doors are on point!
Check out the lighting and the greenery, the chandelier and furniture. I bet it smells incredible under this canopy of jasmine (I'm guessing!).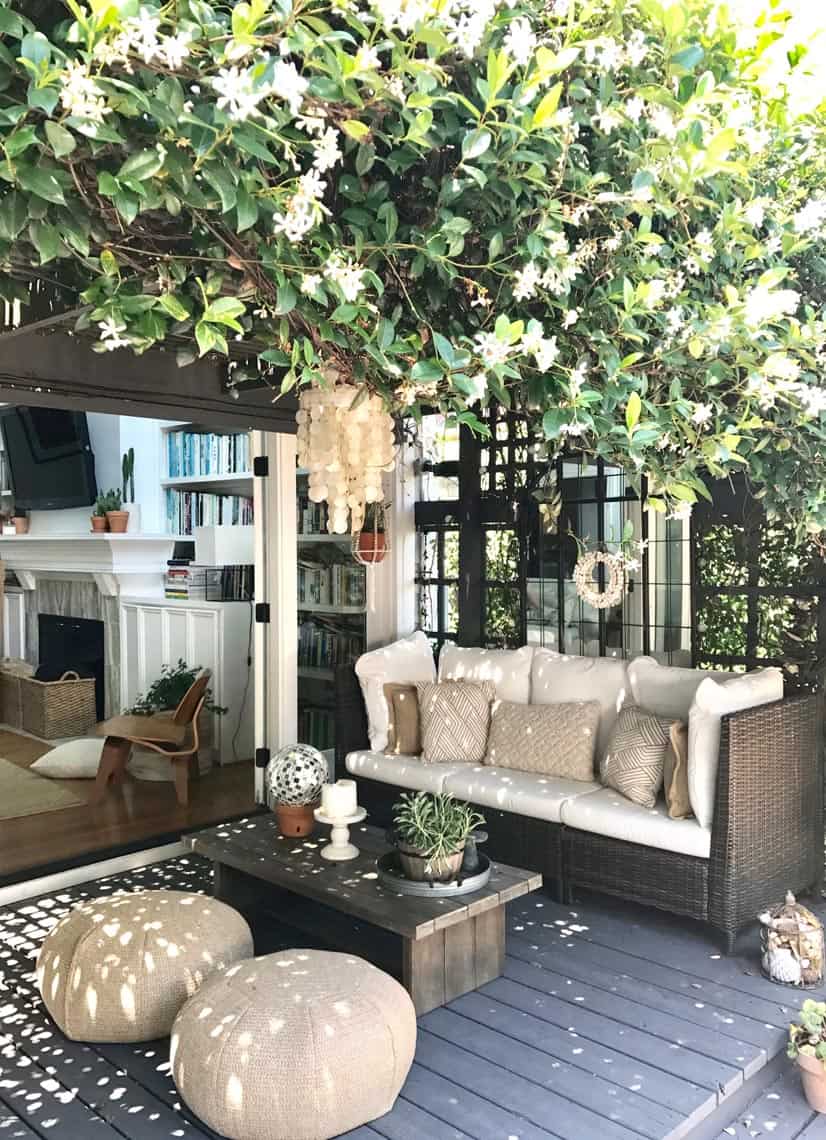 And of course there is a side patio with a perfect table for dining al fresco!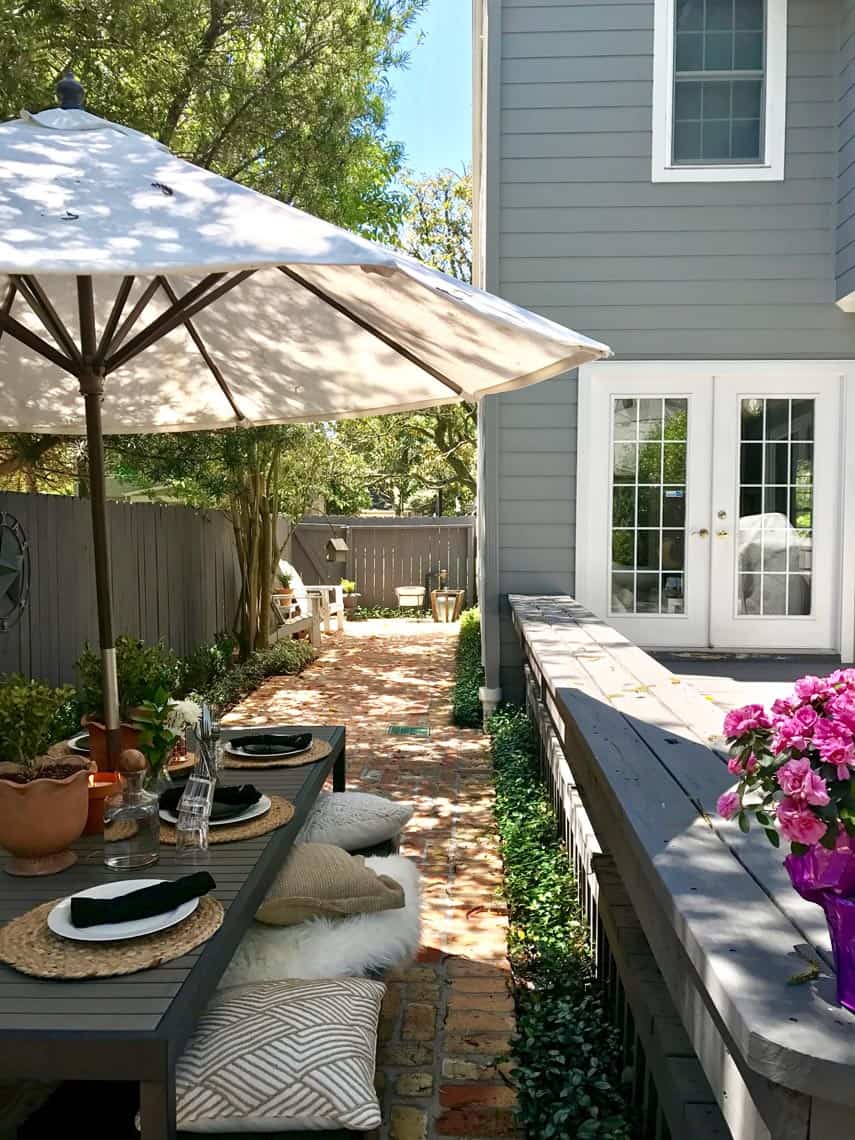 Justine – first of all I can't even tell you how impressed I am with your attention to detail! Every surface and corner is perfectly curated and there is not a thing I would change! I love how you committed to your theme of black, white and natural elements with lots of texture. It really is jaw dropping and I'm grateful that you shared your home with us!
Everyone, go give Justine a follow on Instagram if you want to continue being inspired as she continues on her personal design journey.
Cheers!