Mango, Ginger + Turmeric Protein Smoothie Recipe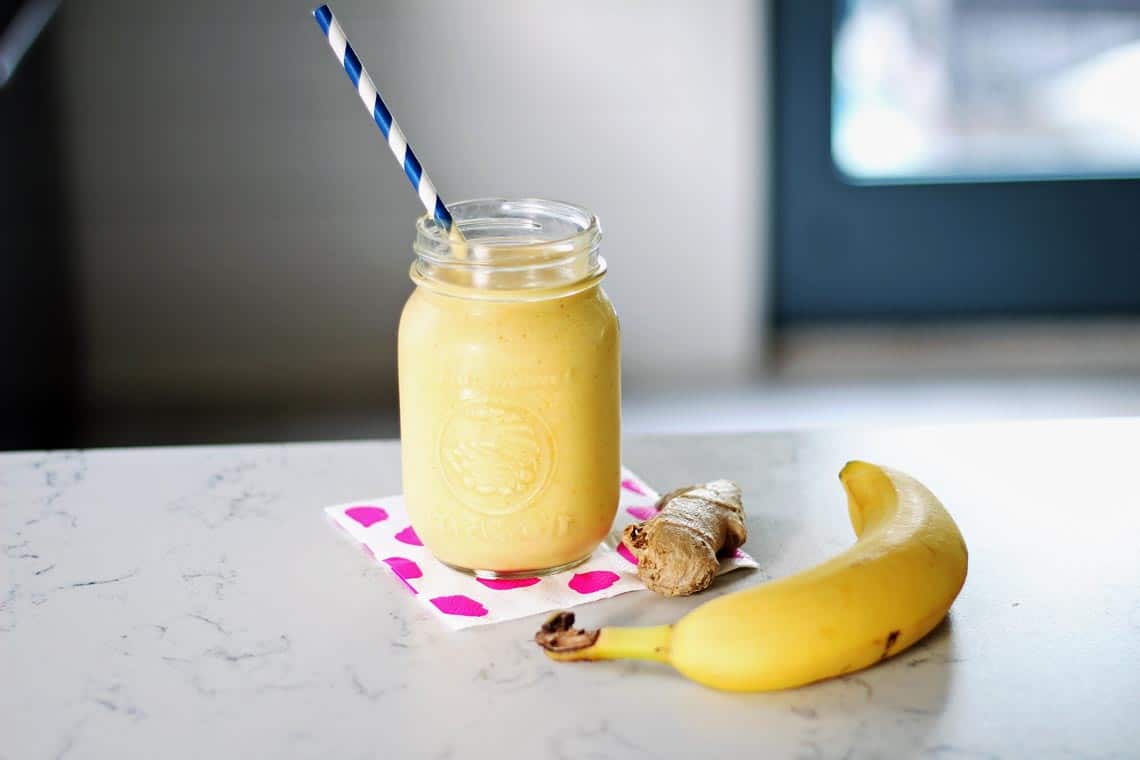 Mango, Ginger + Turmeric Protein Smoothie Recipe
You guys!!! I have a great recipe for you today! If you're like me and are constantly trying to find healthy and yummy protein smoothies to make from home then this is your lucky day. I used to think making smoothies was such a chore but it all changed once I found some recipes that I enjoy. I have two go-to recipes that I've created through lots of trial and error and I'm happy to report I have them down pat and have not tired of either one yet!
This mango, ginger and turmeric protein smoothie is deliciously refreshing and so easy to make despite how the ingredients appear. I love the combo of the three main ingredients and the protein powder and almond milk give it the perfect consistency. If you've never used ginger paste you really should try it. I love fresh ginger but rarely use enough of it to justify keeping it in the house but the paste stays fresh in the fridge and is so easy to use.
I first saw a version of this recipe on my friend Natalie of Guac My Life's Instagram stories and it looked so good she inspired me to try it! So…I played around with the ingredients for a bit and this is what I came up with! Enjoy!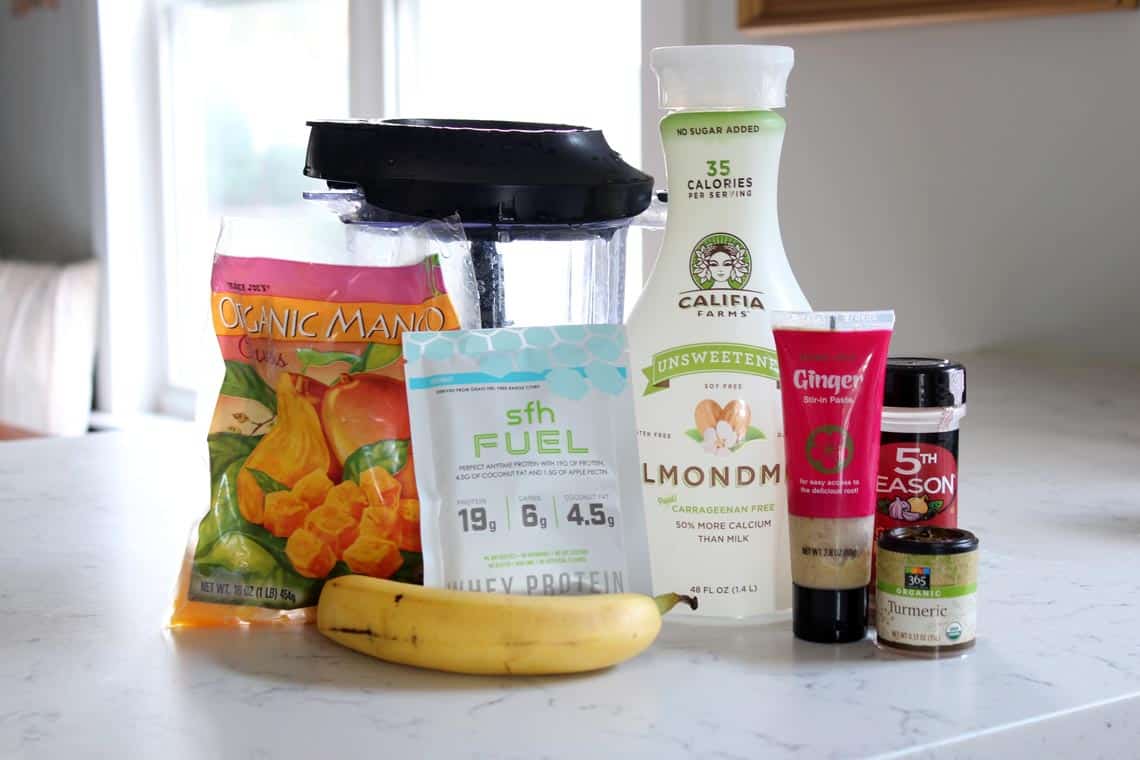 Ingredients
1 cup frozen mango chunks (I get mine from Trader Joe's )
1 – 1 1/2 cups of almond milk (I use Califia unsweetened almond milk)
1 tsp ginger paste or 1/2″ – 1″ slice of fresh ginger (I use this ginger paste)
1/2 tsp turmeric
1 heaping scoop of coconut protein powder (I use SFH Fuel Whey Protein Powder)
1/2 banana
Dash of cinnamon (optional)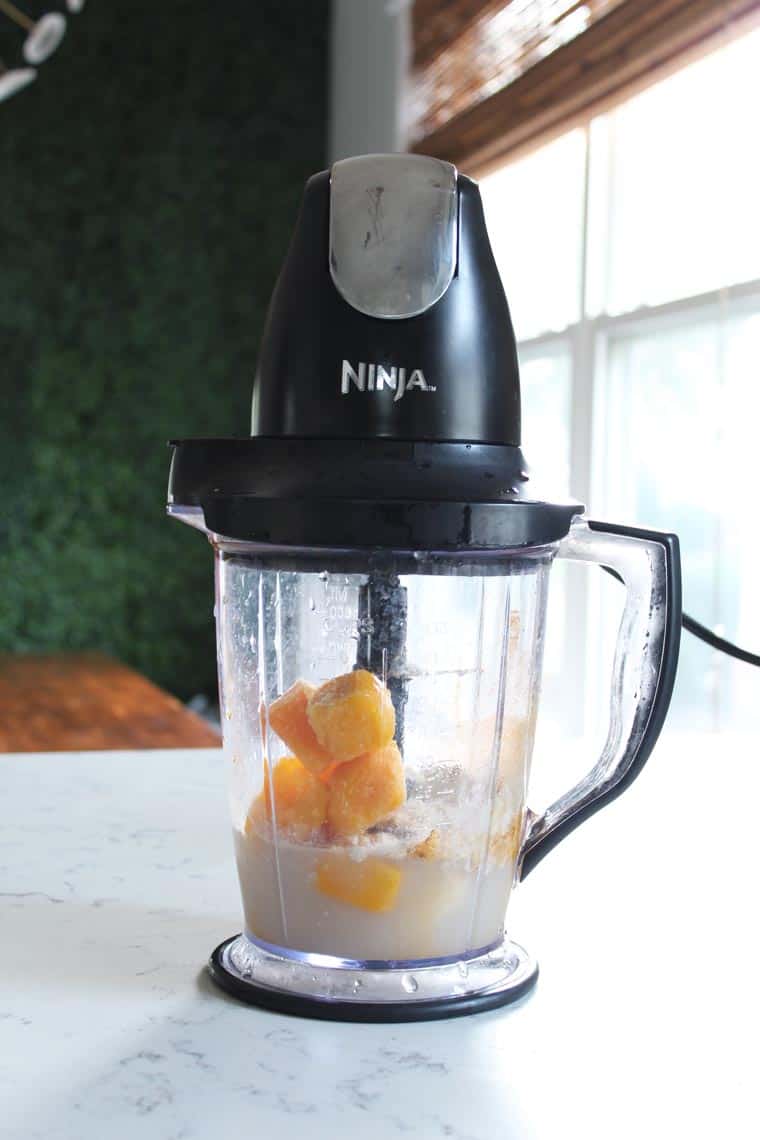 Instructions
Put all of the ingredients in your blender and blend until smooth. You can add more/less almond milk and/or ice depending on how think you like the consistency of your shakes. Our Ninja blender works great!
This is the first recipe and I'll be sharing the second one soon. The other smoothie uses almond butter and cinnamon flavored protein powder instead so it's definitely a change from the mango. Having two completely different shakes in my repertoire will hopefully ensure that I won't get tired of either. But if I do I guess I'll just have to find a different one :)
And yes, for those who know me well, I have worked myself up to being able to tolerate 1/2 a banana (or less) in my smoothies :) For those who don't know, I am passionately against all things BANANA!!! I promise this is good, however, and a perfect post workout drink!
If you missed my current favorite Whole 30 recipes that I've shared you can find them HERE and HERE.
Cheers!