Our 2019 Festive Christmas Living Room
Our 2019 Festive Christmas Living Room
Happy Christmas time friends! I hope you are all well and able to find some cozy in the chaos!
I'm excited to share our festive Christmas living room tour! We have such a small space so there is not a ton of decorating to do but I love dressing up our mantel, tree and the entry mirror.
Front Door
This is not a sponsored post but when I was working on my fall decor post with At Home, I found this adorable collection Christmas decor called Festive Folk. Comprised of felt garland, quirky ornaments and the cutest gingerbread house ever – I had to have it!
Living Room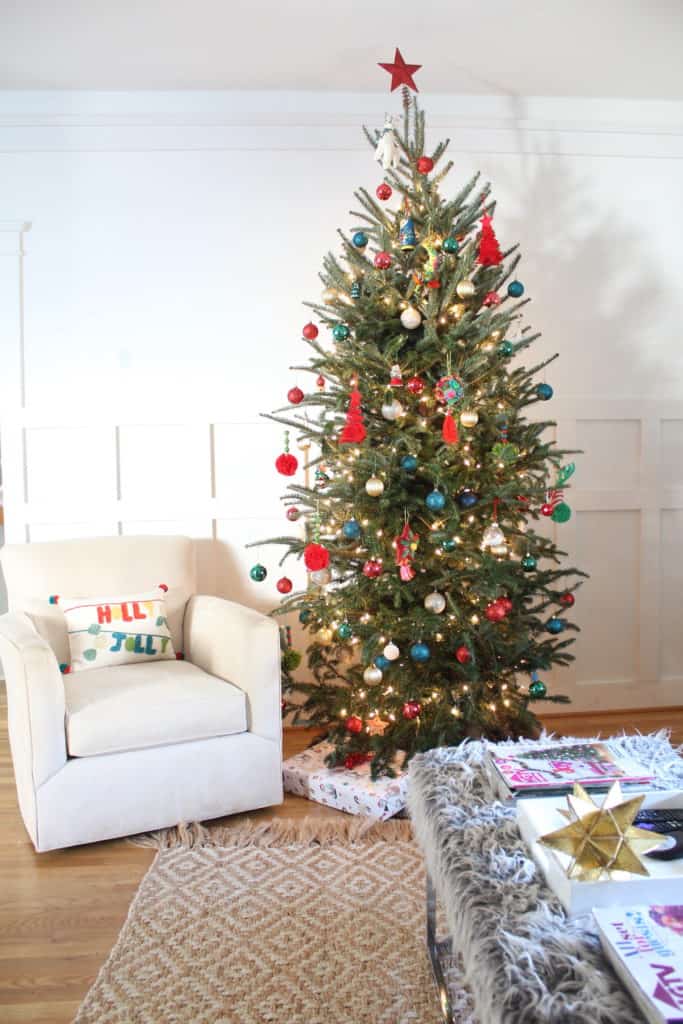 So for the first time in a long time I got rid of a lot of old Christmas decor and bought a few new items. Festive folk feels a little bit Mexican/South American, a little bit Russian and a little European. And with my son being from Russia, this collection really appealed to me.
Entry
I love the playfulness of the pieces, perfect for kiddos, and I think I'll try snag a few more on sale after the holidays!
The holly jolly pillow is one of my favorites!
Mantel
The large pom pom garland is from Michael's.
The greenery is real and is from Trader Joe's. I love using fresh garland because it's inexpensive and it still looks nice even after it dries up. Ours is almost dry here and has not shed at all.
The stockings are old and are plain red stockings that I hot glued some faux fur fabric on the fronts.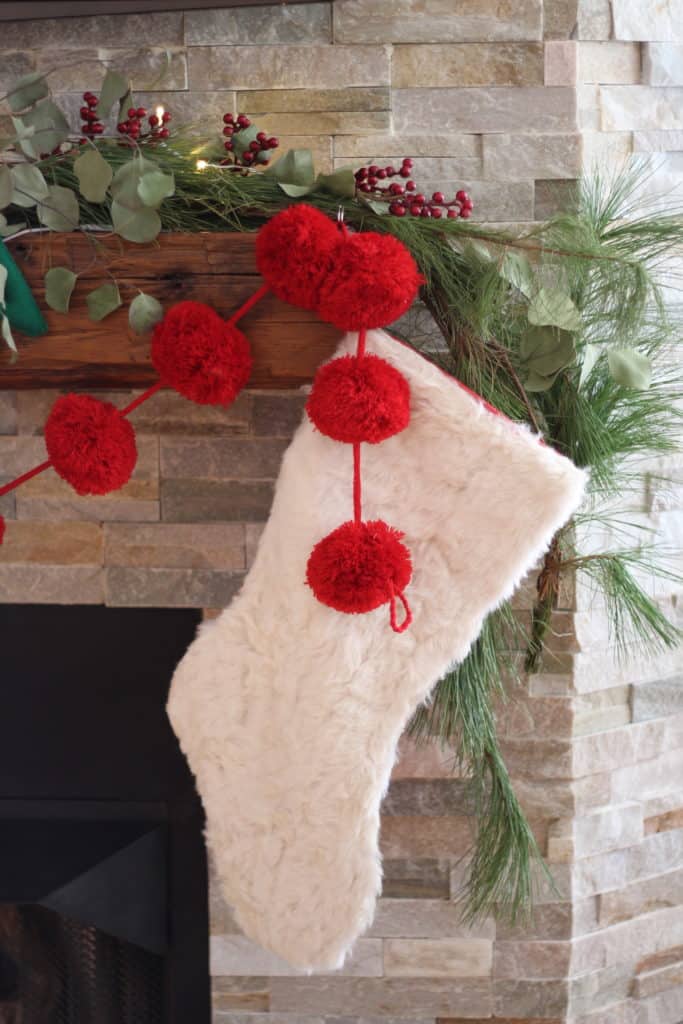 Advent Calendar
Even our beloved kitty cat advent calendar (from HomeGoods) fits with the color scheme.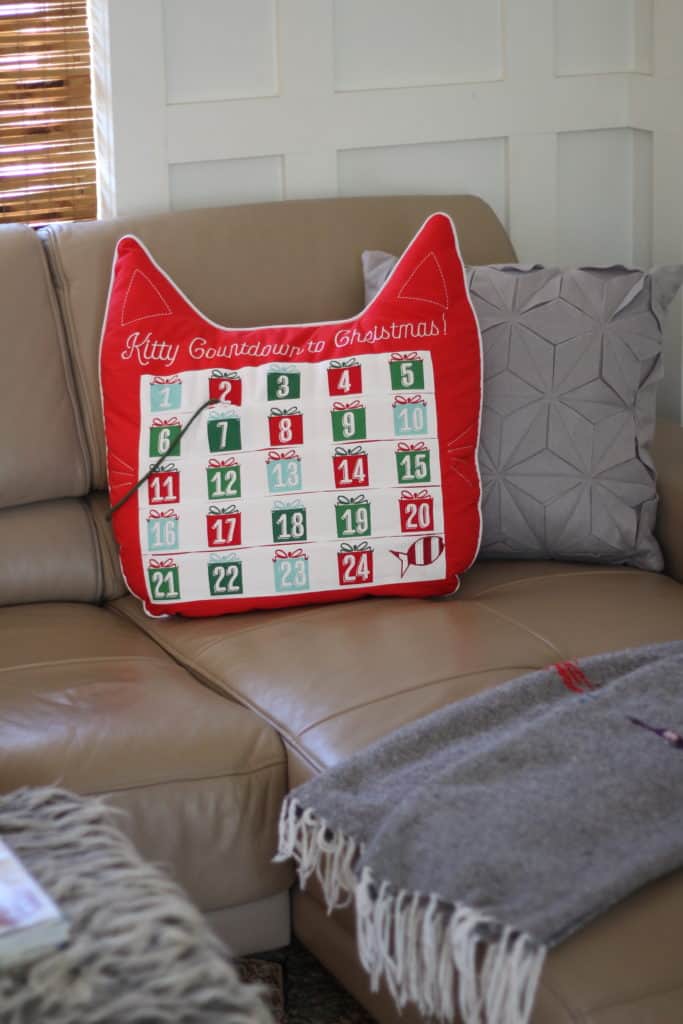 I think Shrimp approves!
One of my favorite things is turning off the overhead lights and hanging out in the glow of ALL the twinkly lights. This is pretty much our routine every evening (even though that means turning about a 1000 lights on and off each day!).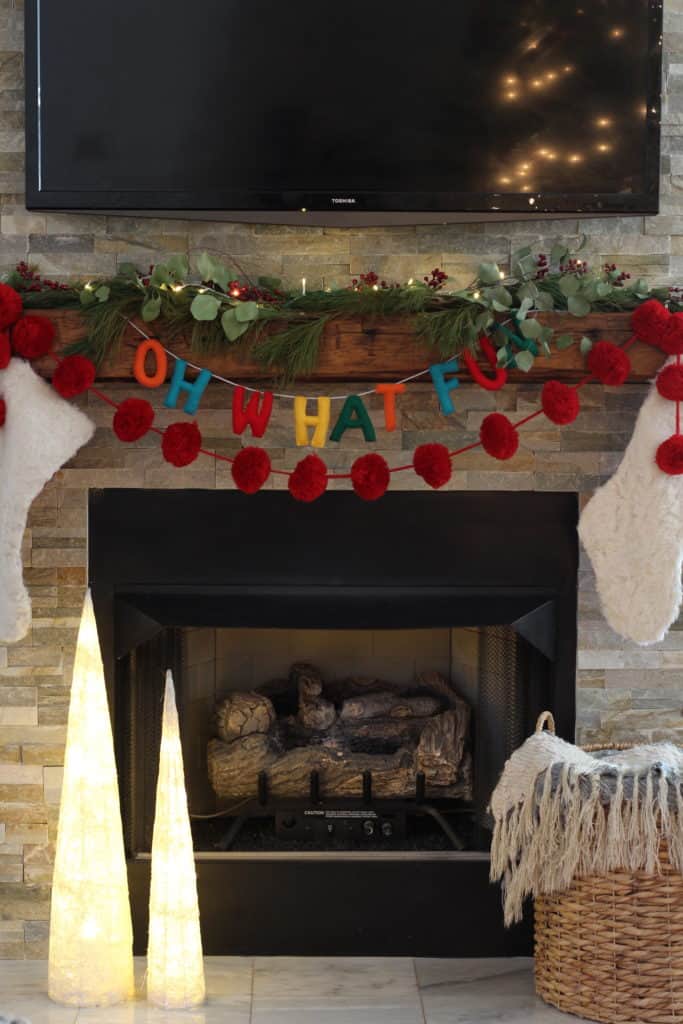 This is our first year with the cat (or elf) out of the bag so to speak but our elf, Angel, is still hanging around and my little man is the one moving him from place to place :) Please excuse the camera lens in the pic below LOL!
24
Now you might ask why there's a gold 24 on display. To me the first 24 days of December are full of business, social gatherings and a million other things that lead up to the big, magical day.
It might seem silly but by decorating early and having this visual reminder, I hope to really savor these first 24 days spending time with family and friends and preparing my heart for true meaning of the 25th – the birth of our Savior!
Do you decorate by theme or do you prefer an anything goes style? I go back and forth but we always use personal ornaments no matter our style each year!
We hope you're getting cozy and enjoying this special time with your friends and family. And if you're still shopping for some unique gifts don't forget about our Gift Guide for Everyone!
If you want to revisit our 2018 Christmas home tour click HERE!
Cheers!