Our Master Bathroom Renovation Progress Report
Happy Friday friends! Summer is in full force over here and I feel like my head is spinning so fast it could literally pop off my body at any given moment! Do any of you feel this way? June is ALWAYS our busiest month of the year with school wrapping up, travel lacrosse, and coordinating camps. I should know by now that this is just the way it is but every year June slaps me in the face once again. Oh well, enough of my wining, there's always July, right?
Our Master Bathroom Renovation Progress Report
One of the good reasons for June being especially crazy is that I'm wrapping up my master bathroom renovation with Lowe's Home Improvement. It's been quite a long and somewhat bumpy road at times but we've managed to come out on the other side with a lot to show for our efforts!
Here is the original design board for the space. A few of the design elements have changed since I created the board but we've stayed true to the main pieces from the original design. The gray vanity, shiplap wall tile, wood-look porcelain tile, round mirrors, brass fixtures and the bamboo shade for warmth,.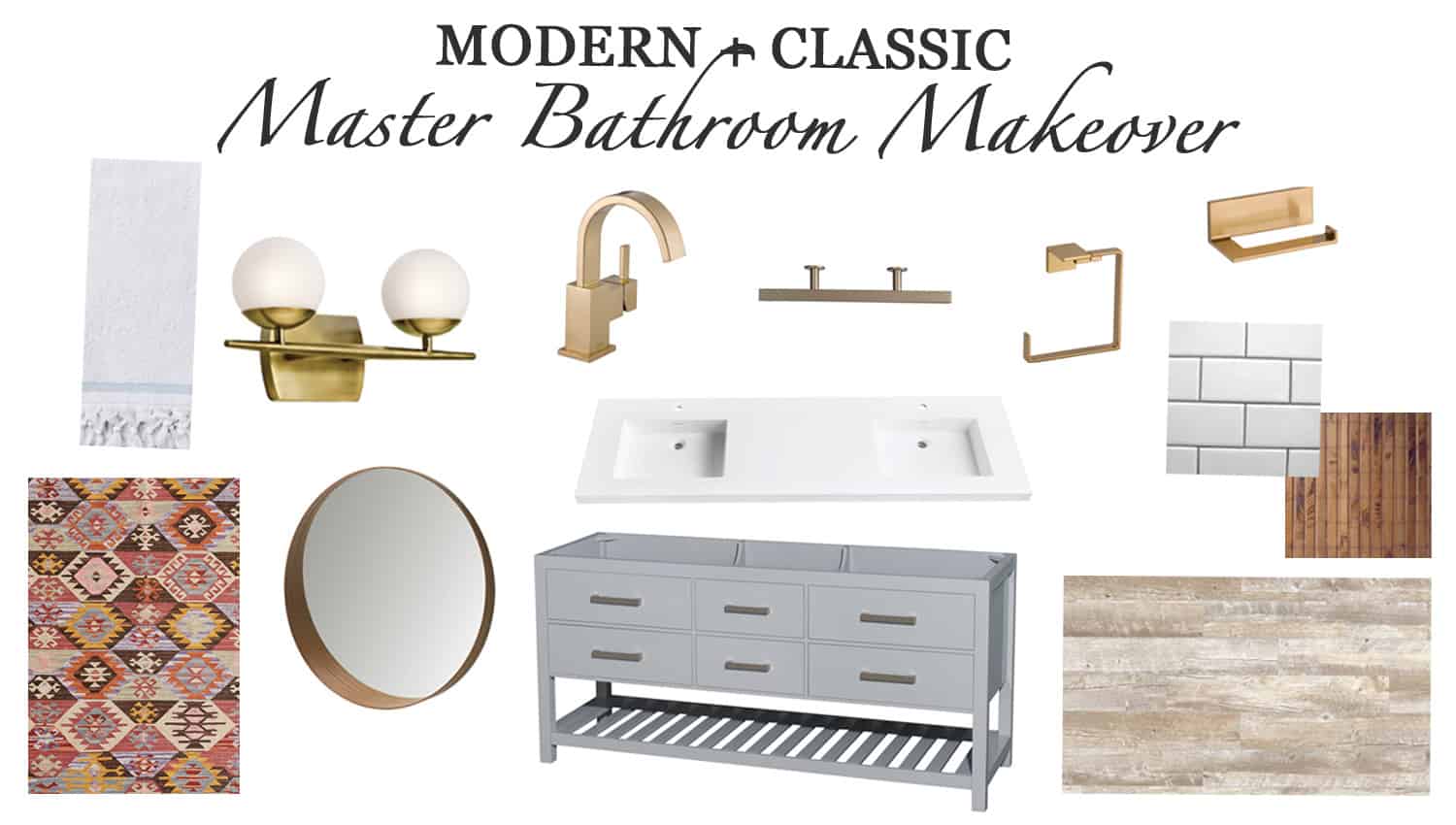 I perused thousands of pictures online to find inspiration for the design of this project because I new I wanted to use classic pieces that were affordable and wouldn't go out of style anytime soon. But I also wanted to allow my creativity to come through and put my own twist on the white bathroom donning subway tiles and brass fixtures that you see so often.
You can find all of the drool-worthy inspiration bathrooms here.
1. BEFORE
Now, let's get on with the good stuff! Here is a little background about our house and a few before pictures:
Our home was built in 2000 and we purchased it in 2005. I have since at least partially updated or remodeled every room in the house with the exception of the master bedroom. This room has not been touched other than a little paint and looks exactly how it did when it was built 17 years ago. Everything still functioned (sort of) but it was in dire need of being brought into the 21st century!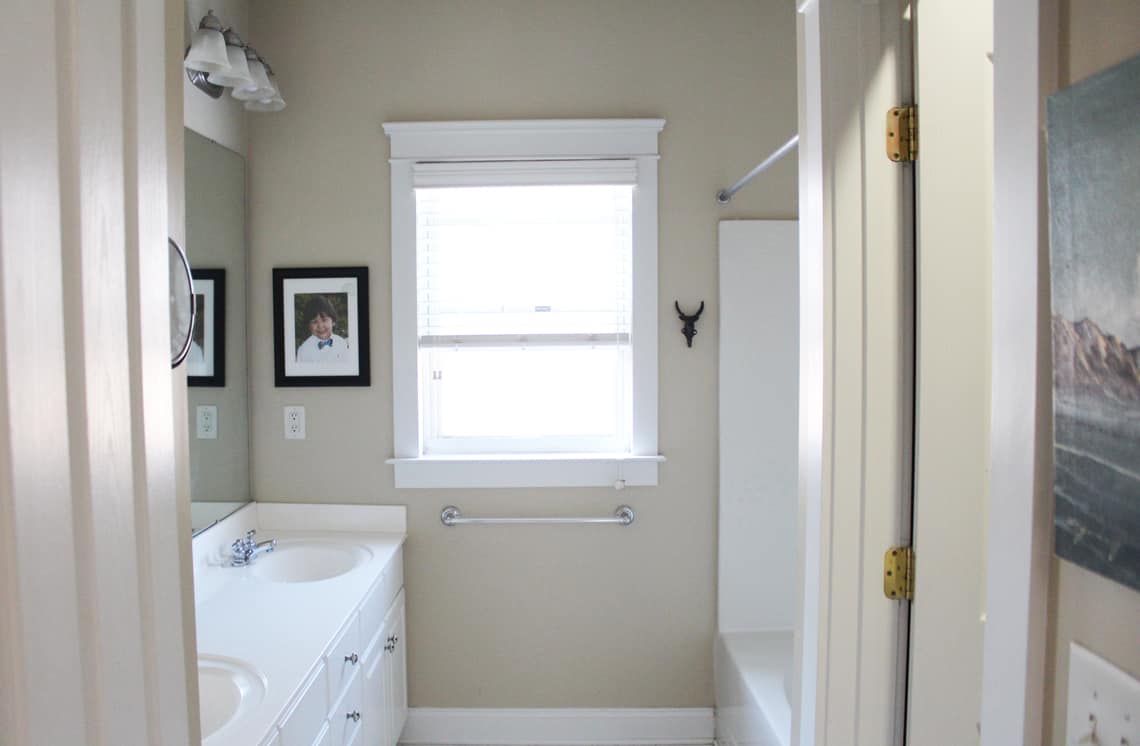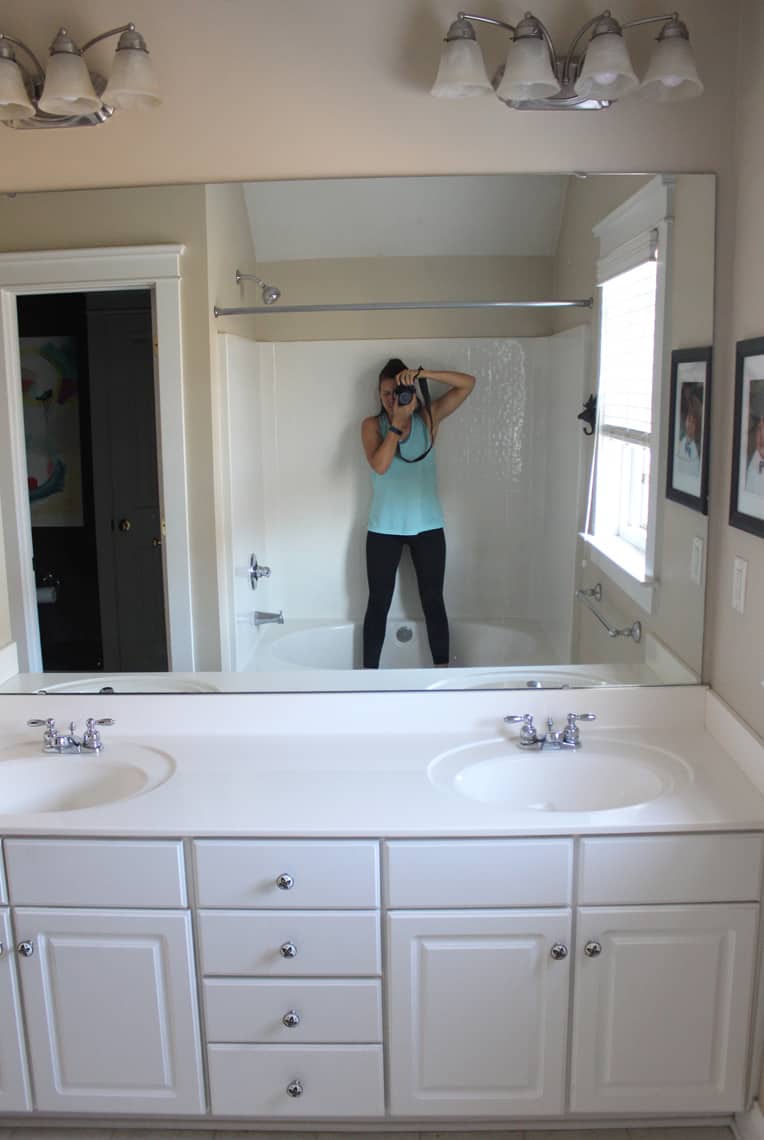 Not quite sure what I was thinking when I painted the walls in the water closet chocolate brown other than I think I was going for that "moody" look from the previous decade :)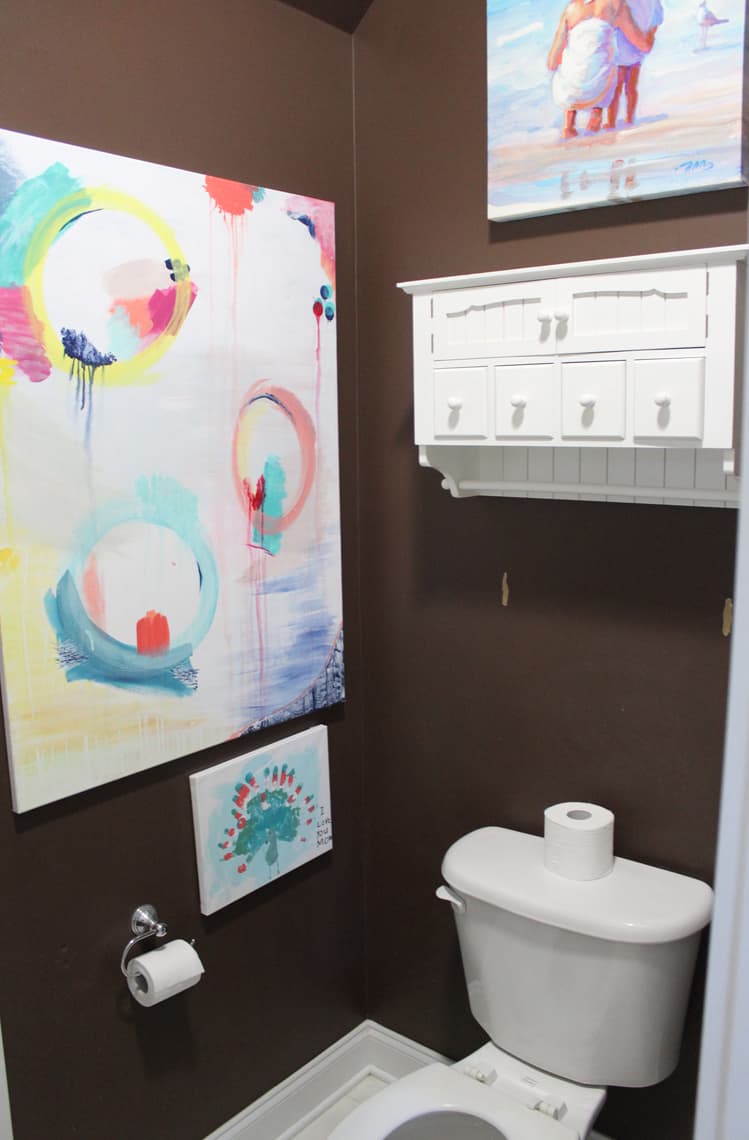 2. DEMO
So needless to say there was not much to salvage so we took it down to the studs and started from scratch. The vinyl floors had to go, the peeling vanity and stained countertop had seen their final days and the fiberglass tub/shower combo was going to be a thing of the past. We did the demo ourselves to save money and it really wasn't too bad, just a lot of elbow grease.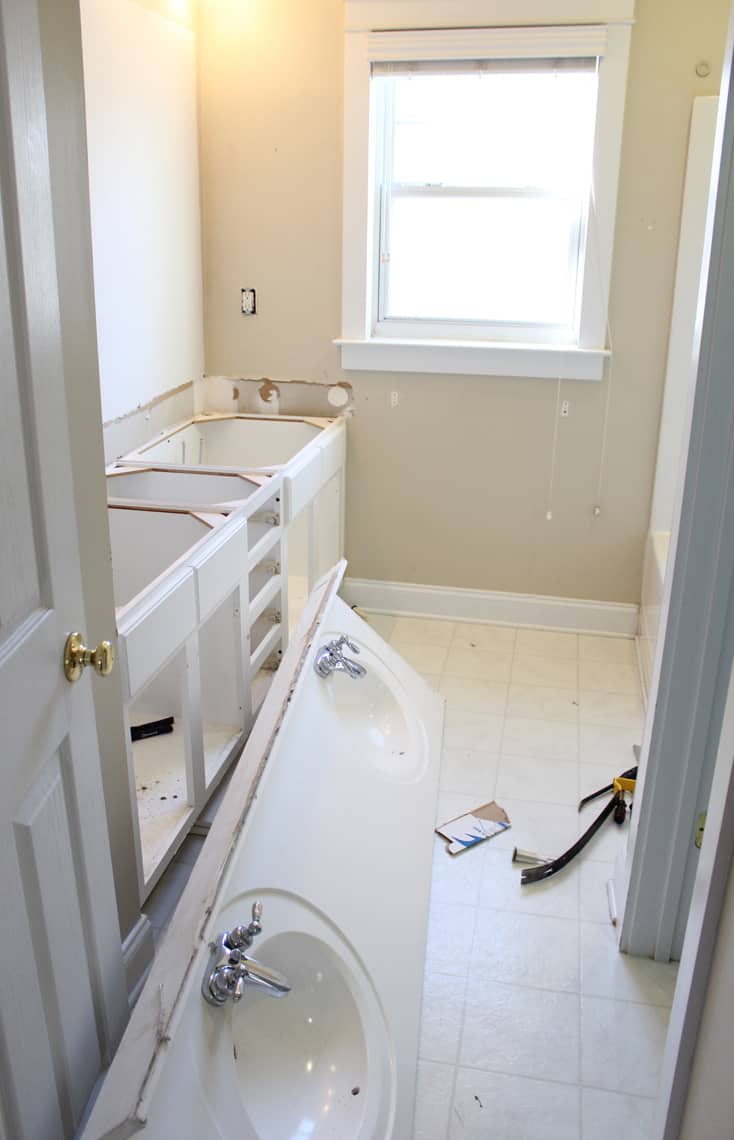 3. FLOOR TILE
Once the demo was done we tackled the floor tile. My dad and one of our friends put down the tile for me (yay!) and they did an amazing job. I love the style of porcelain wood-look tile but I didn't want it to feel too rustic. This Del Conca Woods tile in vintage gray from Lowe's was the perfect mix of modern and rustic.
Do you see the difference in the style of the grain? While I love the look of the tiles in the first picture below, they were a little too rustic then what I was going for. You can see how affordable the Woods tile is and that it is slightly more modern (picture 3) than the first two.

Here you can see the detail of the grain before it was grouted.
We used Mapei unsanded grout in silver. Our Huntersville Lowe's tile department employees were a huge help when it came to picking grout type and color as well the sealer. They are probably just as happy that this project is wrapping up as I am because I spent way too long in those aisles :) If you guys are in the area go see James in the tile department. He's the man!
Doesn't it look so pretty and clean once it's all down?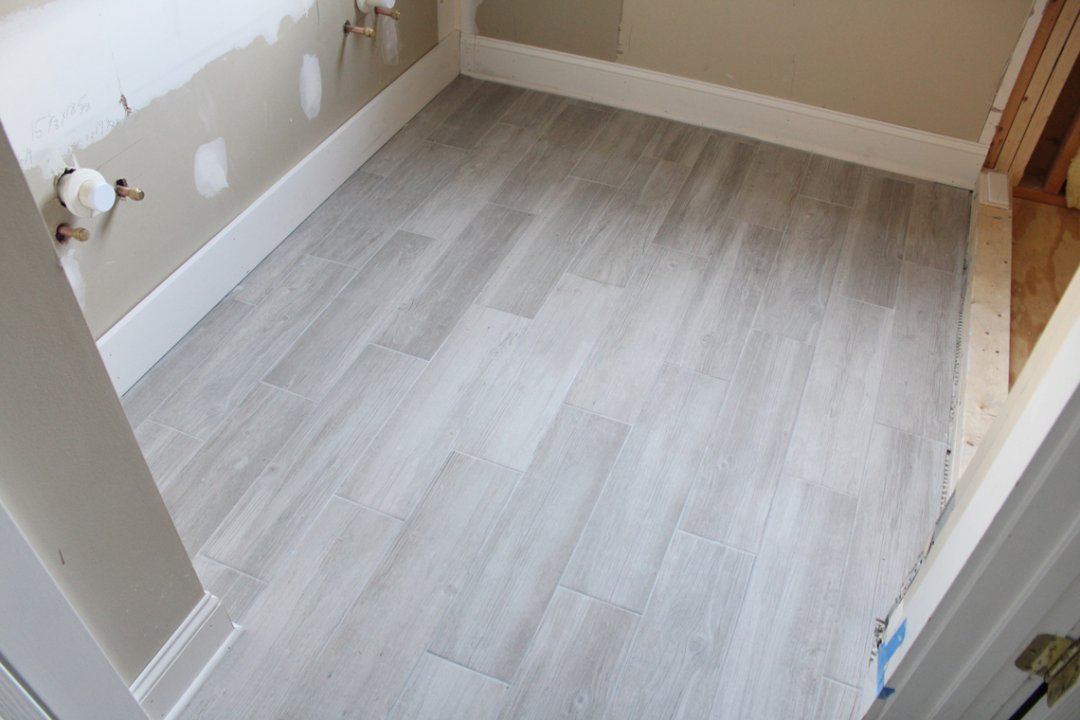 4. SHIPLAP
I love shiplap because it's a relatively inexpensive project that I can do myself and packs a huge style punch! We used shiplap in our kitchen renovation and I new I wanted to include it in the bathroom too. The wall behind where the vanity would be was the perfect spot. I did this wall all by myself except using 1′ x 6′ pre-primed pine boards from Lowe's. It took me about two days total (not working around the clock) so it's easily a project that can be tackled in a weekend. I'll be posting a tutorial for this project soon so stay tuned.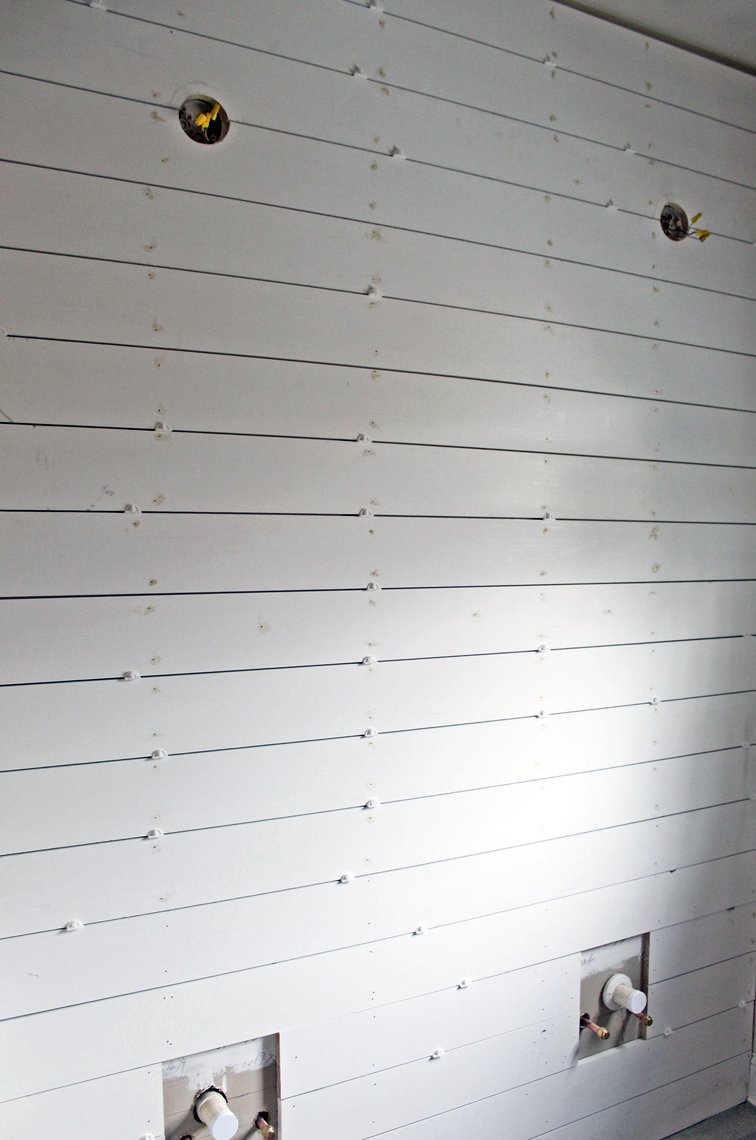 5. VANITY
Next up was choosing the vanity and getting it in the space! That was definitely a feat because this vanity is solid and extremely heavy. It sits in the space like a piece of furniture which I love and has about a million drawers! I'm even getting rid of the white cabinet in the water closet because I have so much storage in the vanity. The gray and marble complimented the design and color scheme of the room and I love the marble top and the rectangle sinks too.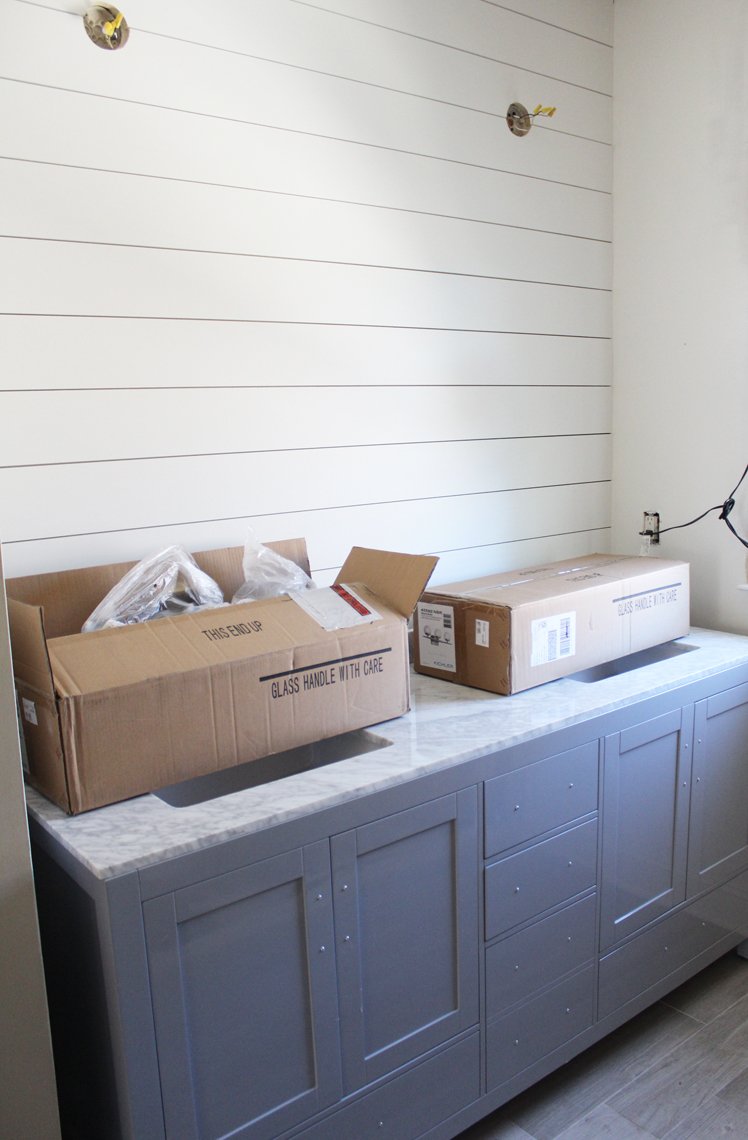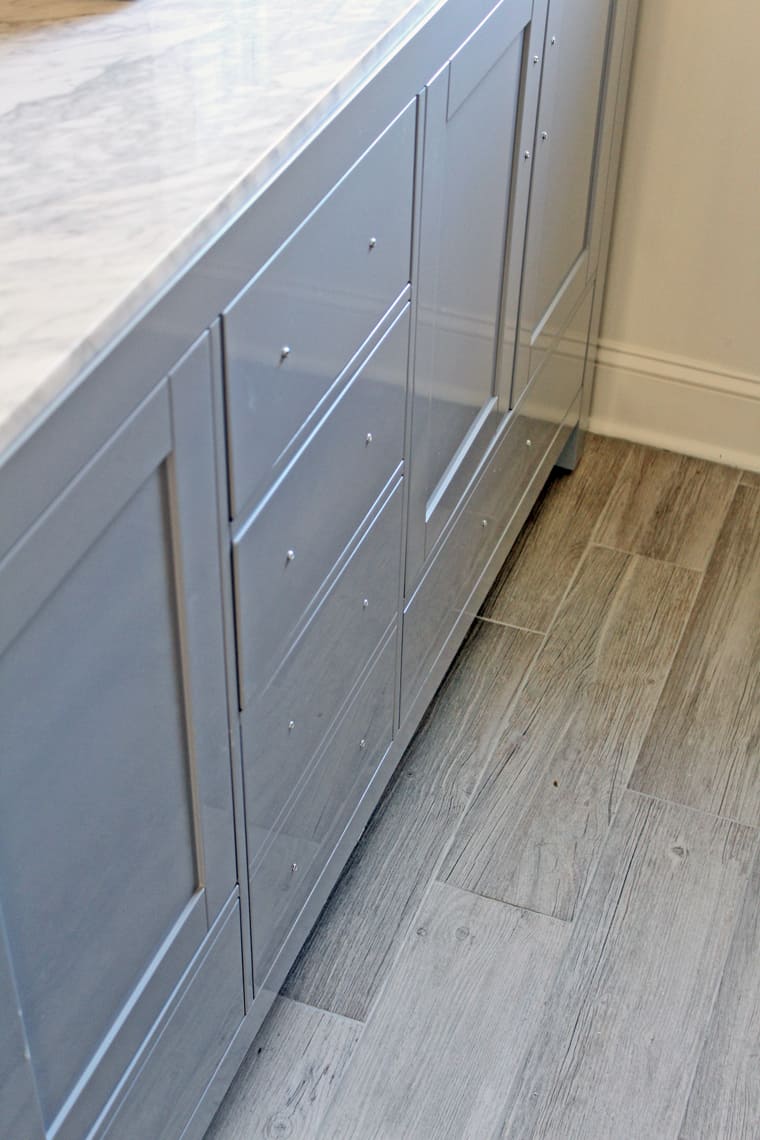 6. THE SHOWER
The biggest struggle we encountered was the shower portion of the renovation. I don't know what is going on in the Charlotte housing and remodeling market but it's nearly impossible to hire a contractor that isn't booked 3 months out and is even remotely affordable. I called lots of contractors and the ones that did call me back were either booked out past my deadline to get the project done (to be out a bathroom and sharing with my 8-year-old) or costs were astronomical!
We were able to beg a contractor to come in and install the shower floor (put the membrane and cement down, get the pitch right, etc.) but we decided to do the framing and tile ourselves. If you guys have been reading my blog for any amount of time you know that my dad is a saint – and a saint that has incredibly vast skills in the building department! He was so generous to offer his time to frame out the bench and niche in the shower and lay the floor AND wall tile! So my dad and one of our family friends embarked on the crazy journey of their first shower tile job. We learned a lot along the way to say the least and let's just say we know why the tile contractors charge so much now but it turned out great and I can't wait to show you the finished product.
I'm not going to share a tutorial on how to tile a shower yourself because we are no experts but if you're interested I may share some tips and tricks or things not to do :) And as always Youtube is VERY helpful! Here are a few pictures of the process. Oh, and in case you were wondering tiling a shower is MESSY!!!
I chose white subway tile (also in our kitchen) because I knew it was a classic look and it's also cheap! We realized very quickly that it is not easy to lay subway tiles in a shower with all of these angles but the finished product was worth it. The dark gray pebble floor tile is the perfect contrast from the white subways and I love the look and feel of them. It definitely takes this bathroom's style game up a notch!
I used Mapei unsanded grout in Charcoal because I wanted the grout to close to the pebble color. I wanted the contrast to be between the wall tile and the floor tile, not between thepebbles and the grout color if that makes sense.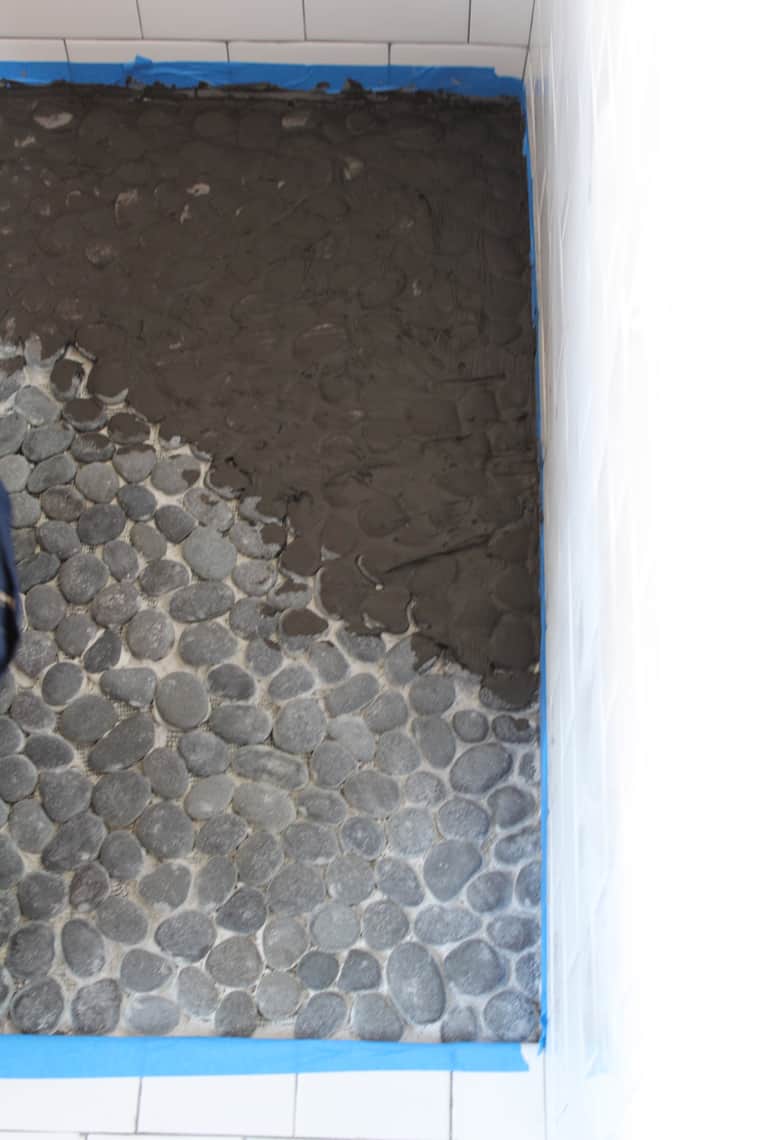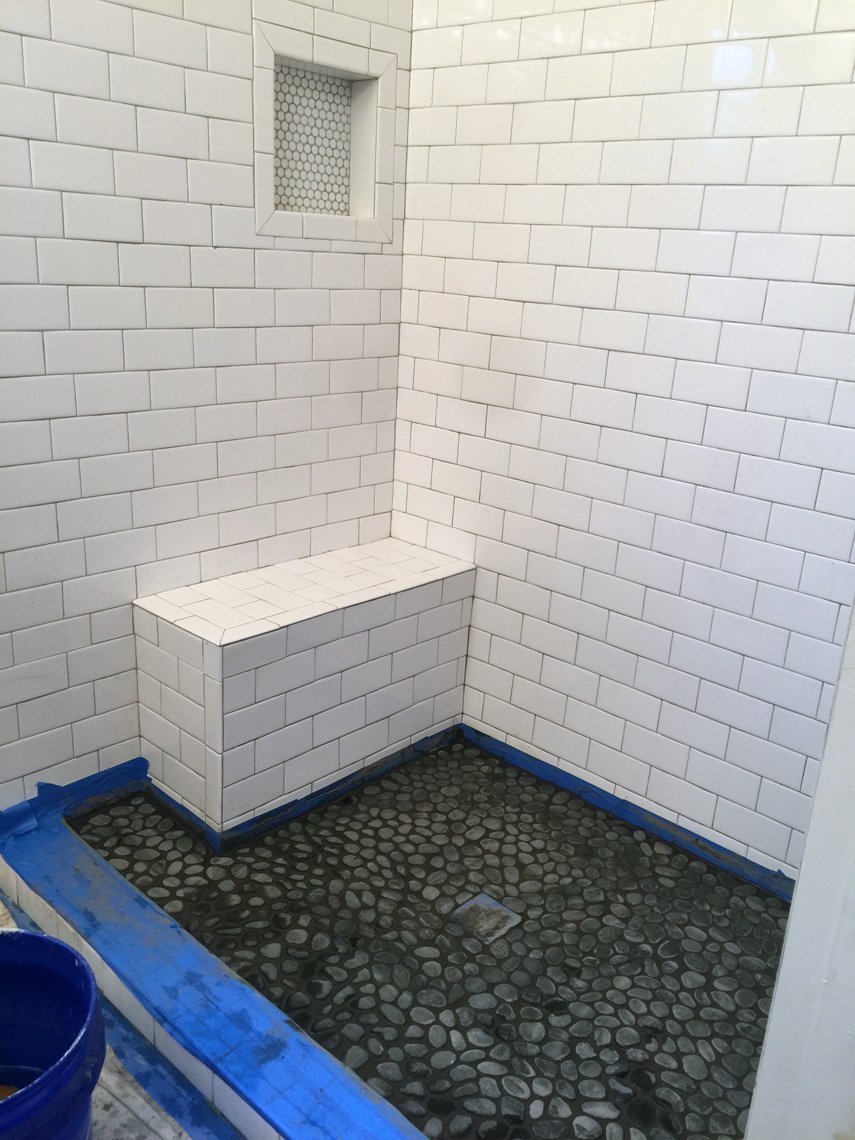 Next up I'll be sharing all of the fixtures and finishes with you before the final reveal where I'll be talking about mixing metals and why it is A-Okay!
And like the tile contractors, I had a terrible time finding a wallpaper installer in our area that had any availability. The walls in the water closet where the toilet is will be covered in this Serena & Lily palm print wallpaper and I can't wait for you to see it!
Look for another update next week and the final master bathroom reveal soon!
Cheers!

{This master bathroom renovation project is in partnership with Lowe's Home Improvement. Lowe's provided product and materials for the project however all ideas, designs and opinions are my own. Thanks to Lowe's and thank YOU for supporting the brands that make Simple Stylings possible!}