Bigg(er) Boy Room Makeover with Carpet One: The Before
{This post is sponsored by Carpet One Floor & Home®. All designs, photographs and opinions are my own. Thank you for supporting the brands that make Simple Stylings possible!}
Bigg(er) Boy Room Makeover: The Before
Happy Wednesday friends!
We've officially survived Hurricane Florence and are working on getting our yards and homes back in order. We're grateful that she didn't slam Charlotte as bad as expected and we continue to pray for our neighbors in Wilmington and the rest of Eastern NC. My parents made it down to the #OIBHappy house yesterday to survey the damage and thankfully it is minimal!
Today I'm excited to share the before story of my little man's bigg(er) boy room makeover that we've been working on this summer! Kids grow so fast (especially when you're the parent) and it feels like his room gets a facelift every other year. I know it's not that often but I would really appreciate it if time would slow down just a little, mmkay thanks!
This makeover was a bigger project because we had to make a decision about the flooring. His room was the last room in the house that still had carpet and it needed to go in a bad way! Think multiple tenants, numerous pets, etc. Gross! Removing the carpet wasn't the struggle, but deciding what to put down in it's place was a bit of a debate.
The Before:
This picture is from my son's big boy room and the last completed stage.
The Progress:
Here are the first few changes we made prior to the flooring. We painted the walls our favorite neutral gray (Repose Gray by Sherwin Williams) and changed the location of the bed. He also graduated from the tiered bookcase to the matching IKEA Billy bookcases on either side of the window.
This picture doesn't do the dirty carpet justice because there is so much light, but the patch you can see in the picture above is a more accurate representation.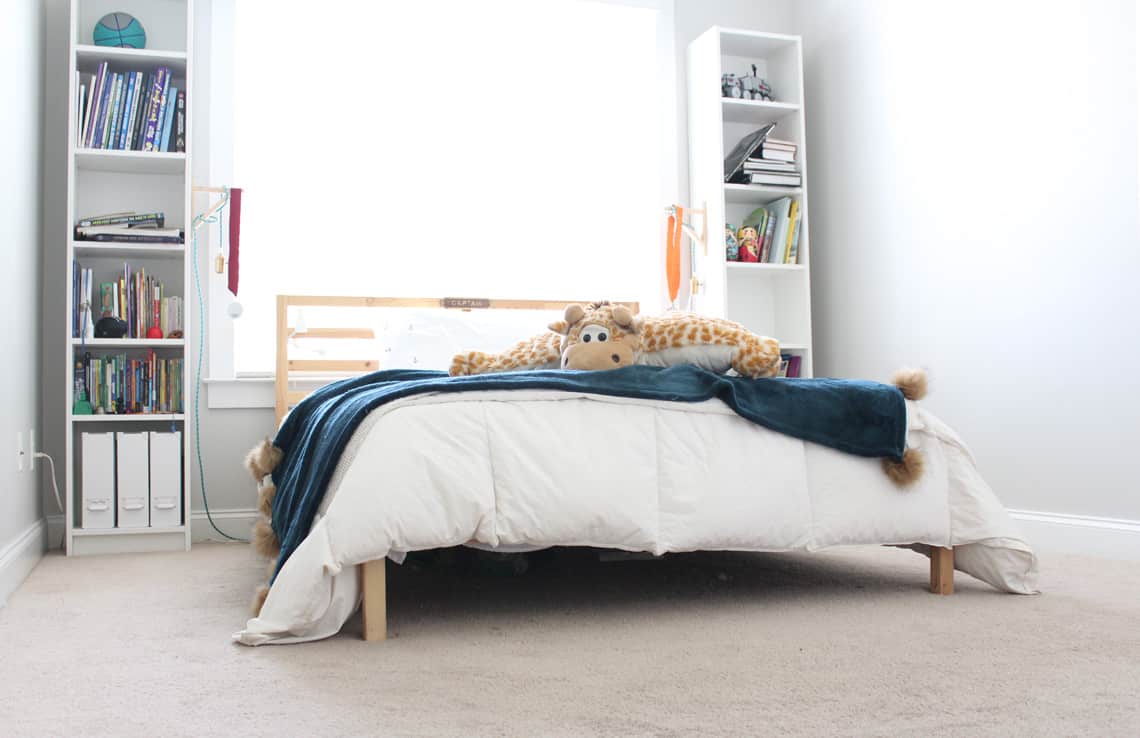 I wanted to put down hardwoods so the whole house would be uniform and our downstairs floors were in dire need of refinishing anyway. Easy decision, right? Not so much! If any of you have a 10-year-old you probably know it's right around the time when they start having opinions lol. My son was adamant about keeping carpet in his room. While I do love the feel of carpeting or a rug under my feet when I get out of bed I wasn't sold on giving up the hardwoods.
When Carpet One Floor & Home® asked if we would partner with them to shop at our local store and share their new Tigressá carpets as a bound rug I knew right away it would be the perfect solution. I convinced my son that we should move forward with the hardwoods but that we would fill the room with a soft, durable area rug of his choosing (with a few parameters from mom)!
The Store:
We headed to our local Charlotte store to check out the carpets and to learn more Carpet One and the benefits of their exclusive brand, Tigressá. There was a huge selection at Warner's Rugs & Carpets and Debbie jumped right in to help us narrow down our selection. She was great with my son and really got down on his level to show him different options and to explain the differences to me.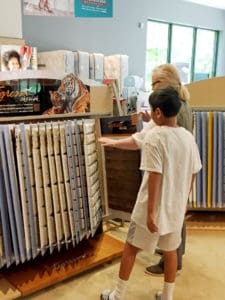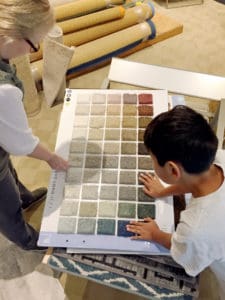 The Selection:
Softness was the most important factor for him but durability and of course color were key factors for me. The Tigressá carpets are known for being water and pet resistant which made me feel much more comfortable about putting carpet back in his room. When he has friends over they are constantly playing basketball in here on the indoor goal, wrestling and sneaking in snacks so a strong carpet was a must.
My son decided on the Tigressá® Cherish, All Night Long III carpet because it was just SO SOFT. Literally satiny-smooth like the description says. The Tigressá brand is exclusive to Carpet One and the All Night Long III line comes in 49 different colors!
I let him make the final decision on the style and I helped narrow down the color choice. Believe it or not we agreed on the Snicker Doodle color – a neutral gray that compliments the walls and also helps the room feel light and bright. I definitely did not want it to look cream or beige. I'll give you a hint…it's a winner!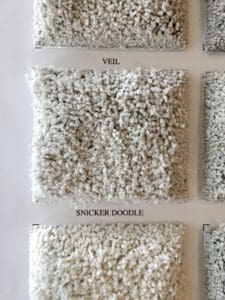 The floors have been refinished, the carpet is in and we're putting the final touches on the room. I can't wait to show you the finished product! You can see the refinished floors HERE.
Stay tuned for the full bigg(er) boy room makeover reveal next week!
If you have a space that needs some seriously cozy carpet you can check out the Tigressá Cherish line HERE. A big thanks to Carpet One Floor & Home® for sponsoring this project and helping us solve our flooring dilemma without biting each others' heads off :)
Cheers!