Our Kitchen Renovation: A Year-ish Later
Our Kitchen Renovation: A Year-ish Later
Happy Tuesday friends! I'm a week and a half into my new blogging schedule and I really think it's going to be doable! I'm already a lot less stressed, I spent a lot more time with friends and family this week and I'm looking forward to each post! I hope you guys can feel that too!
If you've been reading our blog for awhile you know that we partnered with Lowe's Home Improvement a little over a year ago to makeover our kitchen. As with any kitchen renovation, it was a grueling process but incredibly rewarding in the end when my design finally came to life! This was the first room reno that I was able to design from start to finish and after a year of living with it I have to say we still LOVE every inch of it!
My design board that I created for the space really helped me stay focused on the overall vision.
Here is the kitchen before the reno: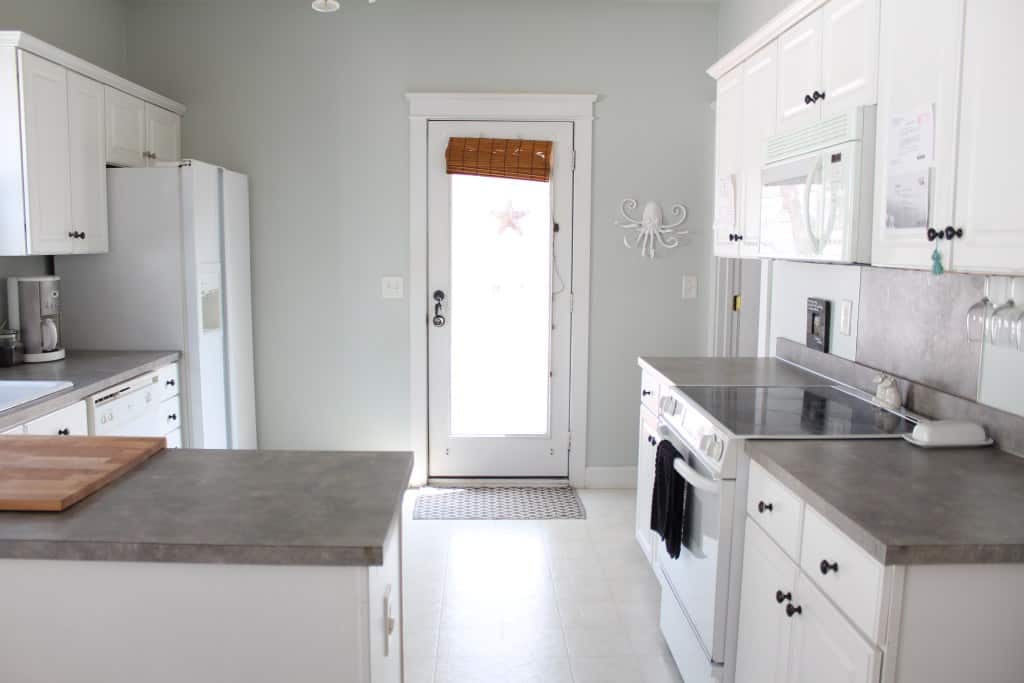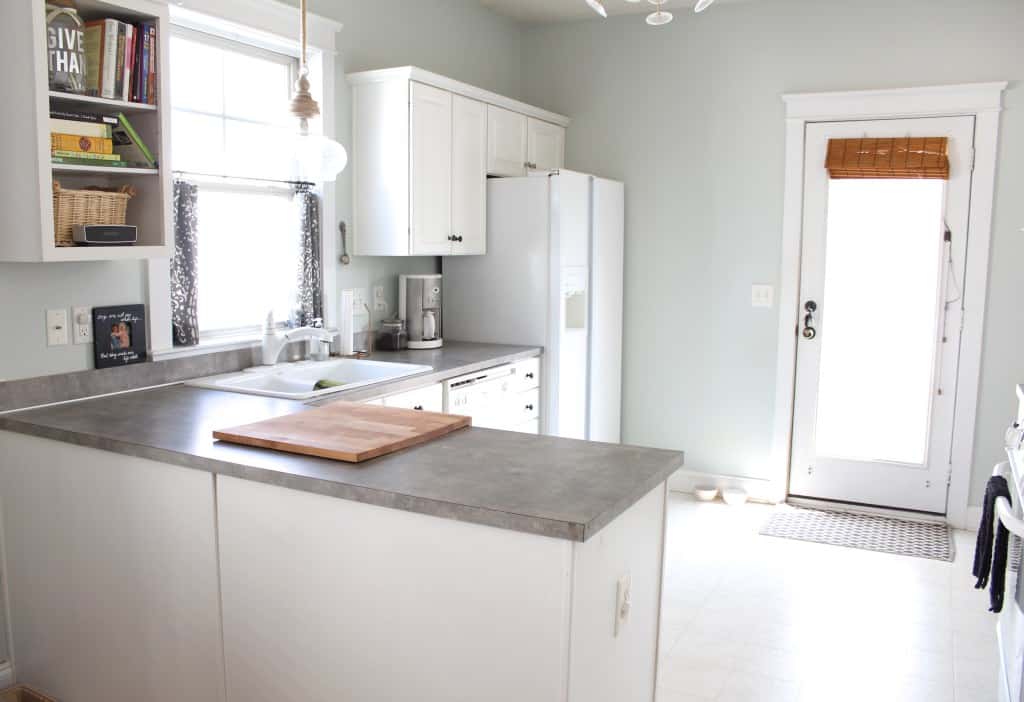 So let's get down to the nitty gritty and I'll tell you how it's going!
1. Floors – the floors have held up great and we still think it was the perfect choice for the space. The tile is neutral but modern and we really love the size of the tiles. We wanted to do a herringbone pattern with the tile but the space was too small for this size of tile do we ditched that idea and kept it simple.
Shop our home by clicking the links below:
[show_shopthepost_widget id="2317888″]
2. Cabinets + countertops – The cabinets were probably the hardest decisions of the project! New custom cabinets were not in the budget so we decided to go with these off-the-shelf stock cabinets at Lowe's. Outside of a few drawers that need to be tightened occasionally we have been happy with these budget-friendly cabinets. The are very basic with not a lot of bells and whistles but work for us. The biggest question was to paint or not to paint and I finally decided to stain them to add some warmth to the mostly white space.
I can't say enough about the countertops and we get lots of compliments on them! The quartz is very durable, it doesn't stain and I love the simple marble-like pattern. The pattern is a little more grainy than what the sample looked like in the store but overall we're very happy with them.
The cabinet hardware we chose are unique cup pulls and knobs in Antique English from D. Lawless Hardware.
3. Appliances – when I was looking into appliances I didn't know much about the Frigidaire Professional line and during my research I heard good things but I also read some mixed reviews online. I'm happy to report that we love them all and they look and work as perfectly now as they did when they were installed.
You can read about some of our favorite features HERE. By far the double ice maker in the refrigerator and the built-in meat thermometer in the gas range are our two favorite features!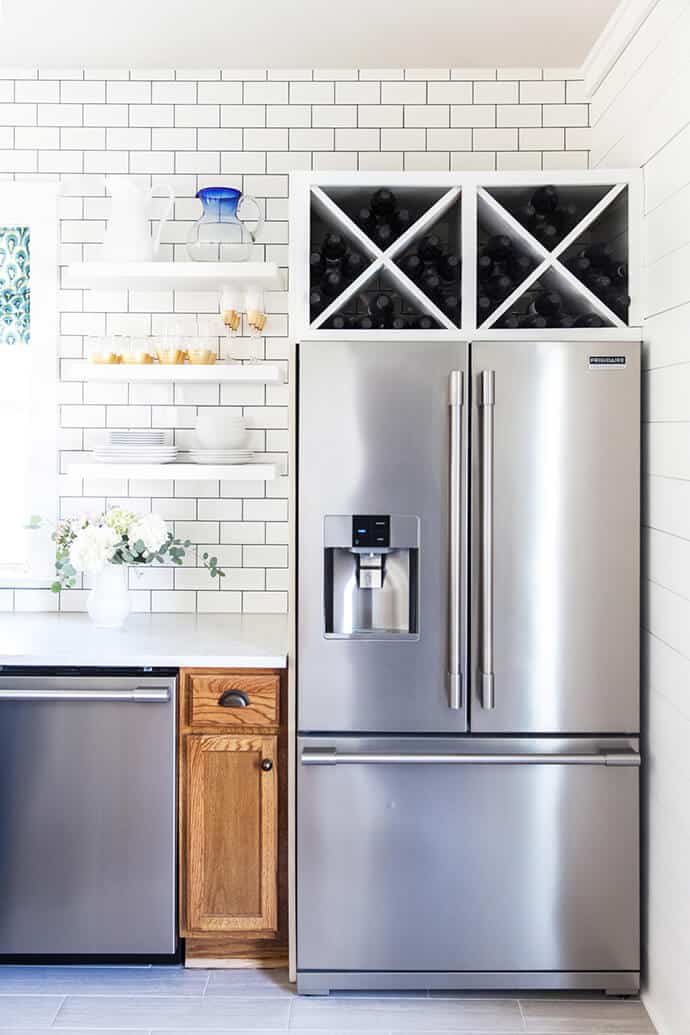 4. Subway tile + backsplash – The main question for the subway tile was whether or not to cover the whole wall from counter to ceiling and I am SO glad we did. It's so clean and classic but makes a huge statement. I wanted to break up the tile just a bit with the fun quatrefoil-shaped tile in she same style above the range.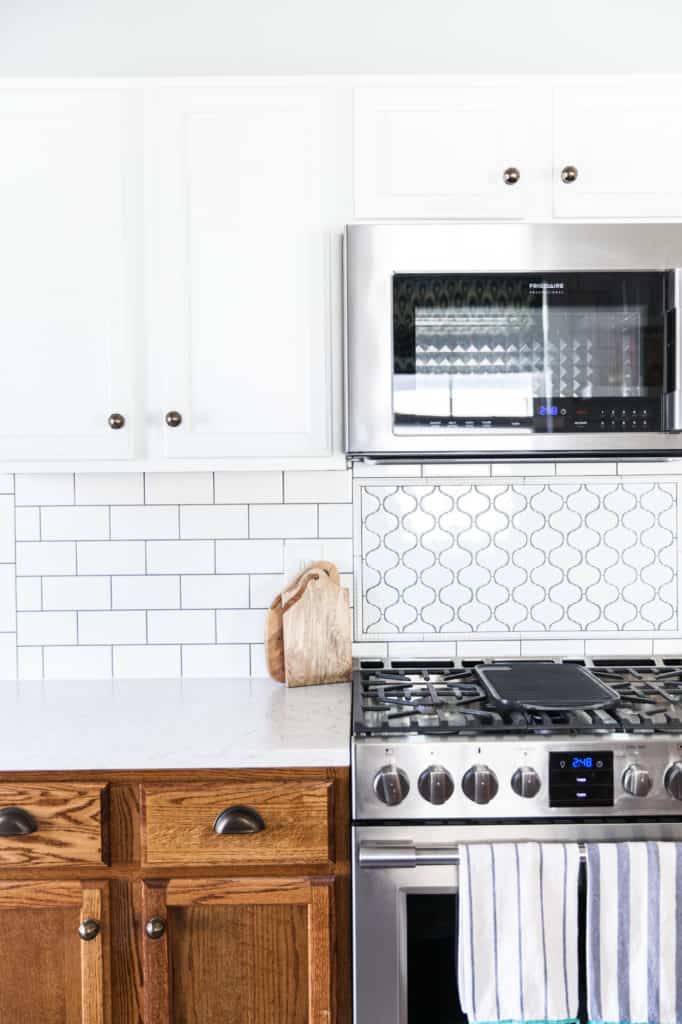 5. Shiplap accent wall – This was a DIY by myself and my other half :) and the only thing that I would change about this next time would be the spacing between each board. We used nickels (or quarters I think) but next time I would use tile spacers, probably at least 1/8″, to make the space between the boards a bit wider. This is one of my favorite features in the kitchen!
5. Floating shelves – I have to give my dad and uncle full credit for these! They built the shelf boxes together and we used these brackets that I ordered from Etsy. We researched the crap (excuse my language) out of these stupid shelves before we decided whether to buy or build. I'm so thankful to the Hogan men for building these for us. They are so strong too!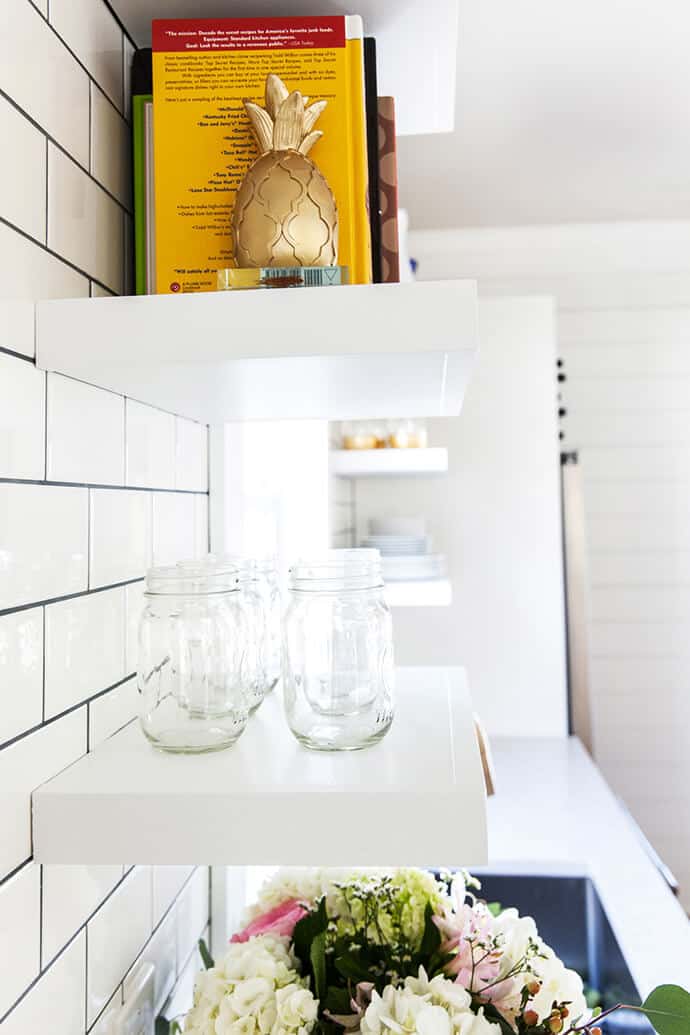 6. Refrigerator cabinet + wine storage – This was also a DIY by us and we had to really get creative with how to do this. We didn't follow any plans, we figured it out as we went, and I think it makes the kitchen feel much more custom. And it just looks good too!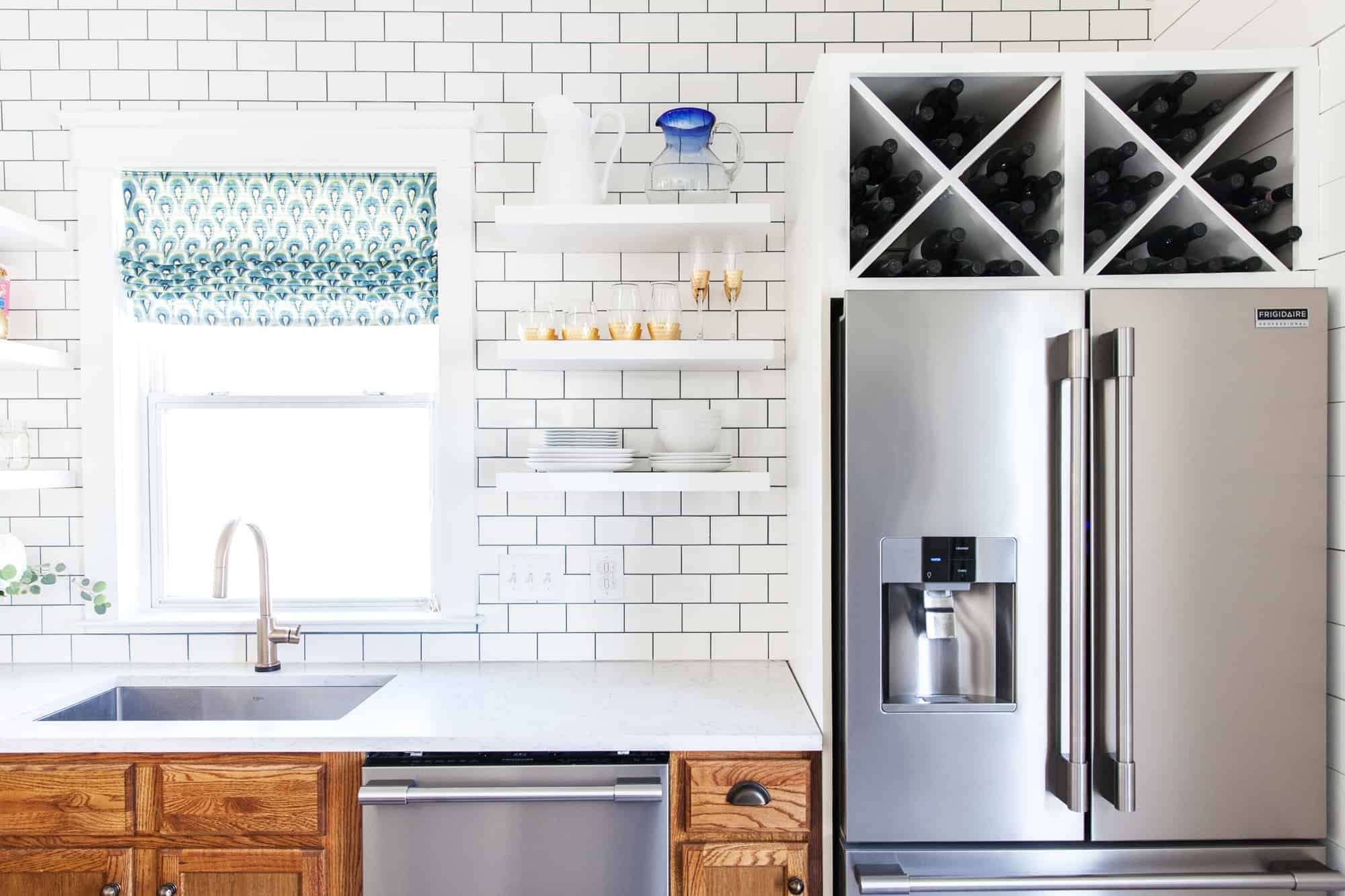 7. Lighting + finishing touches – The finishing touches are really what make this space complete and the sputnik chandelier from Lucent Lightshop set the stage for the design. If you remember I started out with a pendant light above the sink and it just didn't feel right to me. Then I found this affordable flush mount light and it made all the difference. It also coordinated perfectly with the sputnik.
Shop our kitchen below by clicking on the images:
[show_shopthepost_widget id="2317132″]
Drawn Company created the custom shade for the window and this gorgeous and affordable fabric from Online Fabric Store is the perfect pop of color. I love the boldness of the pattern paired with the soft drape of the shade. This is one of my favorite decor pieces for sure!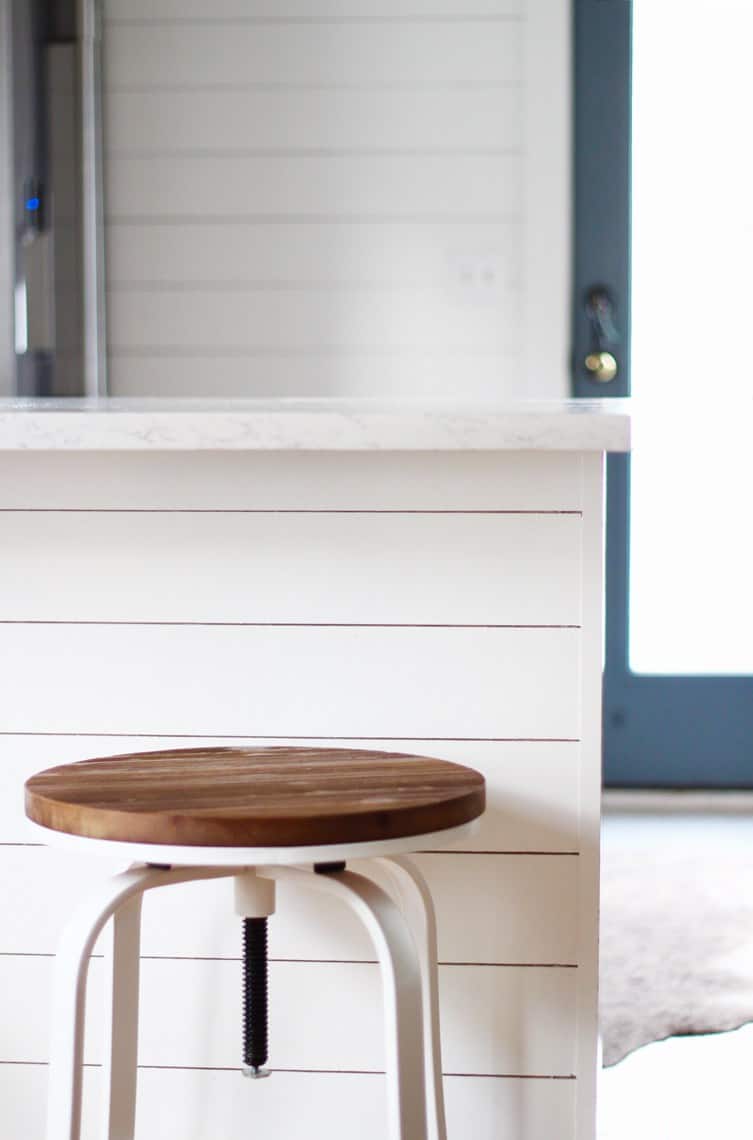 Also a DIY, we added shiplap underneath the bar area on the back of the cabinets. The off-the-shelf cabinets were not attractive on the backside so I knew we would have to cover it with something. This shiplap mimics the wall which makes your eye flow easily from the front of the kitchen to the back. The only difference is the shiplap under the bar is 4″ instead of 6″ like the wall. The swivel counter stools are from Target.
The brass Delta touch faucet is like the crown jewel. It's sleek and beautiful and I don't know how I ever lived without a touch faucet! This is easily the most functional and stylish piece in the space.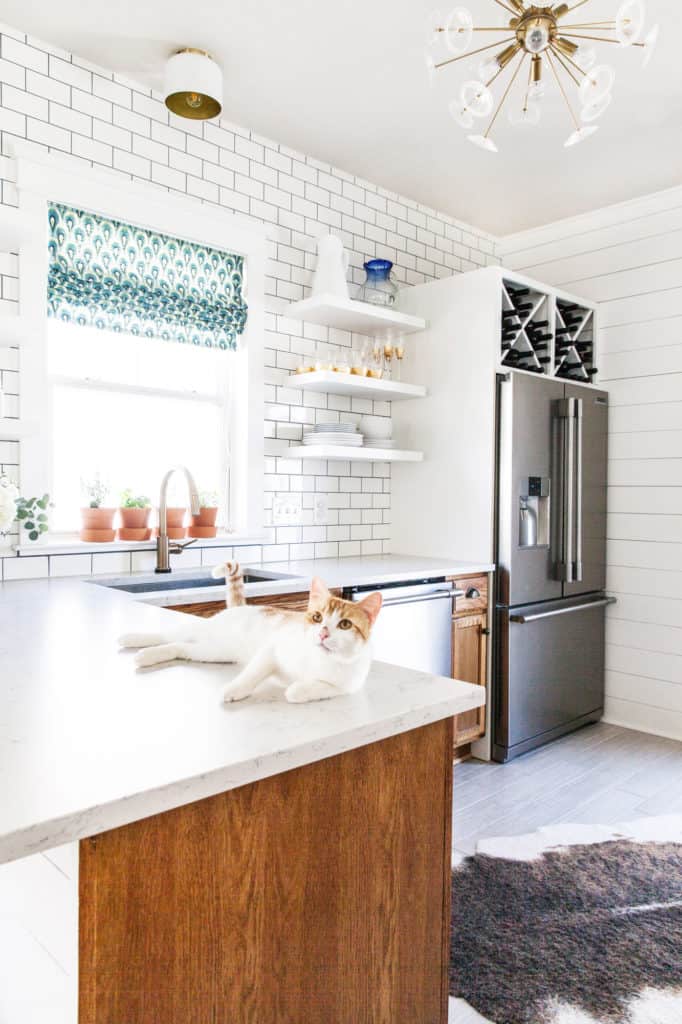 I'm so happy to report that everything is holding up well, I'm 100% happy with all of our choices and believe it or not there really isn't much I would change.
SOURCES:
Floor Tile, Floor Grout, Cabinets, Countertops, Sink, Wall Tile, Backsplash, Grout; Lowe's || Appliances; Frigidaire Professional || Cabinet Hardware; D. Lawless Hardware || Faucet; Delta || Chandelier; Lucent Lightshop || Flush Mount Light: CB2 || Roman Shade; Drawn Company ||Shade Fabric; Online Fabric Store|| Bar Stools; Target || Rug; Rugs Direct
If you missed any piece of the renovation puzzle you can find them all here! And feel free to email me if there is something I've missed!
CLICK BELOW TO READ MORE:
The Original Design and Design Update
Cheers!